A plasma cutter will cut through the most hardened metals. You can use a plasma cutter to cut your way through steel, aluminum, brass, and many other metals.
But you need to ensure the plasma cutter you use is efficient and can trim through whatever it is you need to cut. It will be easier for you to cut sheet metal and other hard items into various shapes for machining and manufacturing purposes if you have a quality plasma cutter.
This guide will help you identify the best plasma cutter for your needs. There are many useful cutter models, but you'll also have to watch for how well each unit operates.
A Comparison of the 7 Best Plasma Cutters
[table id=29 /]
A Closer Look At the Best Plasma Cutter
Having a versatile plasma cutter is always helpful. The Suncoo Cut 50 model is one choice that provides many opportunities for cutting that are easy to follow.
The cutting torch is easy to hold and can be cut through 0.5-inch steel. The cutting capacity is strong, but the speed is also greater than what you would get from a traditional flame cutter. The cutting wand provides a good grip without vibrations.
The heat dissipation feature is a plus to note. The fan unit on the base reduces the temperature of the internal components. The design feature increases the overall lifespan of the product. Added over-voltage and current protection also confirm that the unit stays active without wear.
The display setup on this model also provides you with details on how well the unit is working. You can review the current meter to confirm the total amount of plasma moving through the setup. The control knob also helps you to adjust the intensity of the heat and to ensure the unit keeps on functioning well.
Pros
Easy to tote and carry for various jobs
Uses a simple wire diagram
The handle is ergonomic
Cons
May struggle with some thicker compounds
Does not have too long of a power cord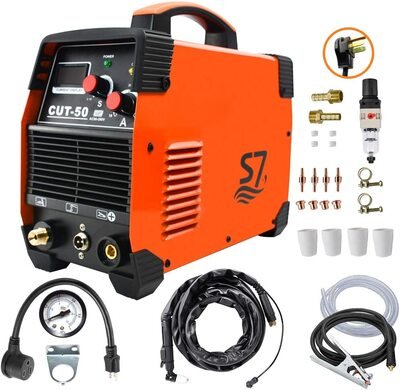 The versatility of a plasma cutter is a point that deserves your attention. The S7 Plasma Cutter 50A features a 50 amp unit and is appropriate for all metal materials.
The cutter can handle metal up to 0.75 inches thick, but it gives a thorough cut for metal at 0.5 inches thick. The unit can cut through various metals, but it can also work well on dirty metals or other surfaces that have not been fully polished all the way.
You can adjust the air pressure rating based on how durable the metal you are cutting through can become. You can use settings from 20 to 70 psi. The design is useful for ensuring the model will not be cut too harshly.
The current and gas delay adjustment features allow you to adjust how well the plasma comes out of the machine. You can control the margin of error for your work as necessary, a point that works well if you have a more massive application that needs extra care or control for work.
Pros
The cutting tool provides a consistent flow of energy for use
An included air hose makes it easier for the unit to take in air
The control features help you adjust the total air pressure in the unit
Cons
It may take a bit for the unit to start working
Does not work as fast when you handle thicker materials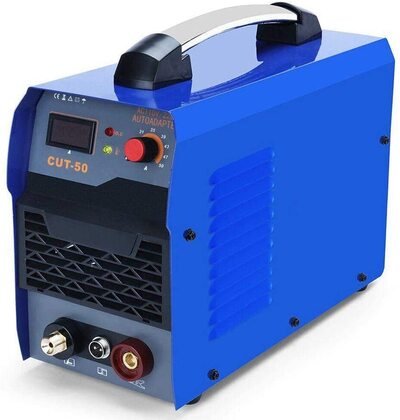 This Sungold plasma cutter provides security from threats such as a lack of compressed air pressure, overheating, and under-voltage issues. The sensors on the cutter will review everything that operates here and will prevent the unit from working when the conditions are not optimal enough.
The front panel LCD readout gives a full picture of what is working on the inside. An air pressure gauge also helps you confirm the pressure setting inside the unit, so it will continue to work evenly and carefully without risk.
The cutting head produces a minimal amount of slag, thus making cleanup and polishing easier. You can use this on copper and aluminum surfaces, among other items up to 0.5 inches thick. The adjustable cutting current lets you control the setup depending on the amount of power that needs to work.
The plasma torch itself is also easy to grasp and control. The heater comes with a slightly grooved body and a 13-foot cord for control. The design helps you to adjust the torch head for many cutting purposes, including for three-dimensional cuts.
Pros
Easy to assemble and operate
Comes with a convenient carrying setup
The protection features ensure the output produced is consistent all around
Cons
Does not work with too many thicker materials
May struggle with some rusty surfaces
There are many tough metal materials that require the use of a cutter. The Amico CUT-40 Cutter features a torch design with a comfortable grip that resists shocks, heat, and other outside threats.
The cutter itself can move through rough bodies that may take extra time to go through. These include thicker 0.75-inch materials that take an extra bit to support.
The meter and attachment control on the front part of the machine work to ensure the setup is easy to control and adjust. The convenient design of the cutter provides a simplified approach for use.
A fan on the inside keeps the unit in check. The fan dissipates heat well enough to prevent disruptions in how it operates and functions, thus providing a protective body that works in moments. The extended cord setup on the heating wand also ensures that you have enough room for moving the wand, plus it prevents issues where you might struggle with trying to reach certain things.
Pros
Produces clean cuts on rusty bodies
Generates less noise
The pressure knob responds immediately to all changes on the inside
Cons
Takes an extra bit of effort to tote around
Does not vent out as well as other models would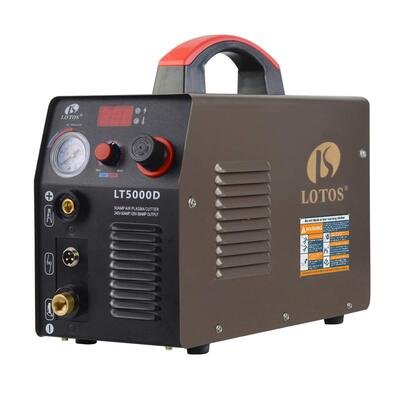 You can always find a cutter that can work on many power sources like this model from Lotos. This model can provide a clean cut of 0.5 inches or a maximum severance cut of 0.75 inches at a high-power setting, or a 1/3-inch cut at a lower setting. The versatility of the cutter ensures you have more control over whatever you wish to incorporate. The lightweight heating wand gives you more control over everything you're aiming to trim for a better all-around result.
You can fit an air compressor on the model by using a stand coupler that already exists on your current air compressor. The flexible and versatile body of the cutter provides a more efficient layout for use.
The air support feature inside the cutter ensures the unit can work with oil-free air. The design is flexible for use, as it can handle many dry air materials and take in enough content for keeping the cutter working as soon as possible.
Pros
Can cut through metal without producing lots of grooves in its body
Useful on mild and stainless steel bodies alike
Provides a simple air hose connection setup
Cons
May not work well on rusty or painted metal
The cutting torch is not lengthy
Having a plasma cutter that works for home or commercial use alike always helps, as such a model can provide a better sense of versatility all around. This Primeweld unit has the ability to cut through many metals for basic or advanced needs, with a maximum severance cut of 0.75 inches and a clean-cut of 0.5 inches. The dual-voltage capacity provides extra help with linking onto many items.
The control features on this cutter provide extra help for reviewing air pressure and heat levels. You can adjust the setup and review the pressure knob and digital power display to see how well the design works.
The handle on the cutter tool provides a good grip for left and right-handed users alike. The convenient design provides an approach that is smooth and simple, not to mention it can work with many cutting tips for thick and thin heating or contact needs.
Pros
May work with thicker metals up to an inch thick depending on the body
The torch responds well to many controls
The air pressure gauge provides an accurate readout every time
Cons
The air pressure setup may leak if you keep on cutting thicker items
Takes a while to start up
One issue that some plasma cutter users have is that they are often overly complicated. This Forney model provides a simplified approach to cutting that works in moments. The cutter uses a design that can cut through many mild steel metals at up to 0.25 inches.
The lightweight design also provides a good body that is easy to carry anywhere. The simple layout also provides a careful approach to work that is efficient and ready to use anywhere.
A three-light design also shows how well the unit is working. The arrangement helps you confirm that you have enough input power and that the duty cycle level is appropriate for your model.
The air dryer and regulator on the inside of the cutter provide an extra amount of help and control for cutting use. The design features let you adjust the amount of power being used by the heater at a time, thus simplifying the overall work process for getting the cutter working.
Pros
The cutting torch features a long 13-foot cord
Light in weight
You can move the cutting tip directly on the metal if necessary without harming the cut
Cons
Does not cut through anything thick
The troubleshooting instructions are too complicated
Buying Guide For Best Plasma Cutters
What Is a Plasma Cutter?
A plasma cutter is a cutting tool that uses hot plasma to cut through metals. A cutter works for metal fabrication needs, and it can also work for construction and manufacturing purposes.
How Does a Plasma Cutter Work?
A few steps are necessary for getting a plasma cutter to function:
An electric arc travels through gas inside an opening on the cutter. The gas may consist of oxygen, argon, or nitrogen.
The gas warms to where it reaches a plasma state. Plasma is considered to be the fourth state of matter that is different from a solid, liquid, or gas form. Plasma is hot enough to where it can cut through metal.
The plasma triggers the arc to push the gas through to start cutting metal. The plasma is electrically conductive. The opening on the cutter will prompt the gas to move by fast, thus allowing the gas to cut through the metal. The metal will be heated up as the plasma moves through, thus producing a clean cut.
The gas also moves along the outside parts of the cutting area to protect the quality of the cut.
Why Should You Use a Plasma Cutter?
The reasons for using a plasma cutter are plentiful:
The edges on the metal you cut will be smooth.
You can cut metal to make it fit into many installations or other applications.
A plasma cutter can produce intricate and detailed designs on any metal you use.
A cutter can also perform repeated cuts for manufacturing purposes in moments.
A plasma cutter will not leave behind as much debris as what you'd get out of something else.
What Can You Cut With a Plasma Cutter?
You can cut various metals with a plasma cutter. A cutter is useful for traditional sheet metal and aluminum. You can also use your cutter on copper, brass, and other hard metals.
How to Tell the Difference Between Different Plasma Cutters?
There are a few things to note when looking at plasma cutters:
1. Severance Capacity
The severance capacity of the cutter is the maximum thickness that the machine can cut. Some units may also come with a clean cut-rate based on the thickest material that a clean-cut can work Check on how well your model works based on what you need to cut and how thick the material can be before starting.
The severance capacity is not to be confused with the clean cut-rate. While a severance capacity rate states that you can cut through thick materials, it may still entail a few rough or grooved surfaces. A clean-cut measurement refers to how something can be clean and cut through without any jagged features or other items possibly coming about.
2. Cutting Rate
Some machines can cut a certain amount of metal in a brief period. The cutting rate may be measured based on how much metal at the half an inch thick can be cut in a minute.
3. 2D or 3D
A two-dimensional cutter will produce cuts on flat metal. A three-dimensional model can operate at any degree and can produce curves while cutting.
Which Type of Cutter Is Right For You?
You'll have to find a cutter based on how thick your metal is, how much metal you need to handle at a time and whether you need cuts at specific angles.
A top-grade cutter can cut half-inch thick metals without concern. It may also help you with your 3D cutting needs. But it might be tough to cut through metals close to an inch thick.
Be sure to consider what you need out of a cutter before you make your final choice. Don't forget to consider possible expansion efforts. You might need a cutter slightly more effective or heavy-duty than what you need to make up for any issues.
Key Features To Find In Your Cutter
Be sure to look at the following points when finding the best plasma cutter for your use:
Review the maximum cutting thickness on your cutter to see how well it can function.
Take note of how well you can get the cutter to start working. The cutter should handle its energy supply well.
See how well the cutter can handle the heat it produces. The energy should be easy to distribute without potentially harming the machine.
Any displays, gauges, or other control or diagnostic features would help.
Many plasma cutters are light in weight. See that you can carry and transport your cutter well.
Look at the air requirement in your cutter. The need is a measure of how well your cutter can take in air. The cutter must bring in enough air pressure to ensure it stays functional.
Safety Considerations
Regardless of the plasma cutter model you use, you must ensure you have the proper safety equipment on hand. You will need safety goggles that can protect your eyes from the UV rays that the cutter may produce, not to mention any particles that might fly around when cutting.
You will also require other protective forms of clothing, particularly gloves. Hearing protection is also recommended, as some cutters may be very loud.
Editor's Pick
The best choice to look at when finding the best plasma cutter for your use is the Suncoo Portable Pro Plasma Cutter Cut 50. The model provides a more efficient approach to cutting and can work with many materials. You can use the cutter for multiple tasks, including for home and business purposes. The control feature also helps you adjust the intensity of the cutter to your preference, thus ensuring the unit remains efficient no matter what you plan on doing.
Conclusion
You'll have to look at how well a plasma cutter can work for your machining or manufacturing needs. A plasma cutter can be very convenient, but it has to work out well. You need a cutter that is easy to handle and use, not to mention something that can move through the metal you're trying to support. The design of your cutter can also make a difference in how well you're going to get the work that you need to complete done right.
The features of each cutter on today's market can be complex and tough to figure. Knowing what works in a cutter and understanding what you plan on using a cutter is essential to your success when getting such a unit ready for your convenience.