You will appreciate the quality that comes with getting a receipt scanner or organizer for when you're getting these documents secured. You'll need to look at the best options available when finding a quality unit.
The bar codes produced on receipts can be extremely complicated and elaborate to work with. You will need to ensure you have an appropriate receipt scanner or organizer on hand to help you with identifying receipt barcodes and other identifying features. A scanner can also help you with organizing the receipts you have and recording them in the proper forms. Each model comes with many unique features for your convenience.
Best Receipt Scanners and Organizers Reviews
1. Doxie Go SE –

Best Portable Receipt Scanner with Rechargeable Battery

The first model to look at is this choice from Doxie. The Go SE is a wireless model that uses a rechargeable battery. You can scan up to 400 pages on one charge. The unit can also store up to 4,000 pages on its drive before it needs to be synced up for managing the data transfer process.
The unit will produce crisp and clear receipt copies 600 dpi. The Auto-Adjust feature will identify the quality of the receipt and will then automatically crop features and produce an automatic contrast to ensure the content is easy to read.
This all comes with a fully portable body that can be used anywhere. The included software that works on this receipt scanner also helps you with keeping tabs on what you are doing with your scanning efforts. You can take advantage of the software program when you're looking to monitor what you are producing and find ways to make the most out of what you are generating.
Pros
Send content to local apps and cloud apps
You can produce PDFs off of your scanned items
Expandable memory through SD card
Cons
The higher resolutions won't scan as fast
Not all SD card models may work on this unit
---
2. Epson Workforce ES-50 – The Lightweight Portable Scanner for Fast Scanning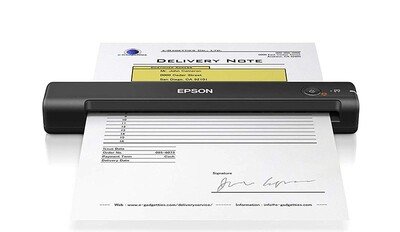 Another easily portable model, the Epson Workforce ES-50 offers some of the fastest scans in the industry. You can get a paper scanned in about 5.5 seconds on average. This is based on the standard 300 dpi resolution that the scanner works with.
You can work with many documents on this model, including 8.5×72 inch models. ID cards can also be scanned through the setup. You can use the helpful software program that this comes with to help with checking on your scans as well. The Epson ScanSmart Software program is designed to facilitate a simple approach for getting your content printed out well.
The USB-powered layout of the Workforce scanner ensures you'll have a secure link to your computer at any time. No batteries or outside power sources are required for getting this model to work.
Pros
Works on many Windows and Mac operating systems
You can create searchable PDFs through what you produce
Can also convert your receipt files into Word or Excel files you can edit later
Cons
No Wi-Fi features
Does not have a tray for stacking documents that need to be scanned
---
3. Brother DS-620 –

Compact and Lightweight, Compatible with BR-Receipts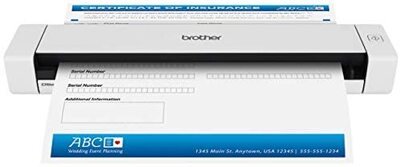 The compact body of the Brother DS-620 makes it a favorite among many people. The unit is less than 12 inches in length and can handle 16 to 28 standard sheets at a time. This can also work with a daily duty cycle of 100 pages on average. You can even work on this with plastic ID cards if desired.
A carrier sheet is also included to help you with getting many small or delicate items scanned with ease. The firm body ensures you'll have more control over your work.
The included USB cable provides you with the opportunity to keep the scanner working anywhere. You can use this without any wall outlets where you are.
Pros
You can produce a searchable PDF through the device
You can send a scan through this to an FTP file
Offers fast speeds at eight impressions per minute
Cons
You need a specific software program from Brother based on your operating system
The duty cycle is not too long
---
4. Fujitsu ScanSnap S1300i –

Best Portable Color Duplex Document Scanner 

The convenient part of using the Fujitsu ScanSnap S1300i is that you can use it to get your documents out to a cloud network. You can use this on Evernote, Dropbox, and Google Drive connections among many others. The double-sided scanning feature does particularly well with identifying different things of note.
The software that works on this setup will work on color, grayscale, and monochrome papers alike. The OCR set up on the scanner also creates searchable PDFs and lets you sort the files through the correct folder to produce a better search layout. The design ensures you can get your work managed while being able to find all the relevant keywords that may appear in your work.
The small design on this model is also helpful. You will not have to worry about the unit taking up far too much space when you get it working and ready for your use.
Pros
The organizer software program that this comes with provides a clear interface
You can use this on business cards
Can handle drawings even with bits of crayon and not smear or wear
Cons
The cable connections are too small
The design cannot handle many pages in its tray
---
5. Epson Workforce ES-60W – Smart tools to easily scan and organize documents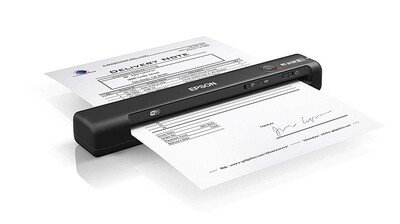 The quick speed of this scanner is the main selling point for the product. You can get documents scanned on the Epson Workforce ES-60W in about four seconds on average. The lightweight portable body of this scanner makes it all the more useful when you need to get connections handled well.
You can also use this with a battery-powered body or with a USB connection. Either way, you can switch between the two without worrying about any possible disruptions coming about when getting the unit to work well.
The Nuance OCR system is a popular part of the Workforce scanner. The design helps to identify words and images on what you are scanning and then make it easier for an associated file to properly read the content being supported. The design provides a better look for managing the content that will be read.
Pros
Works as a double-sided model
You can scan documents to a PC, Mac, or mobile device
You can create Word and Excel files that you can quickly edit through the scanner
Cons
Can only handle one sheet at a time
It May not work as well on some of the harder card surfaces you can scan with
---
This next choice from Fujitsu is designed mainly with business documents in mind, particularly receipts and statements. You can use the software included with the scanner to organize your data based on the particular types of things that need to be done. A shared folder can also be produced to allow you to provide people with quick access to your content. The things you post in the folder can be adjusted by whoever has access to the folder. This is helpful for those who are aiming to handle collaborative efforts in the workplace.
The organizational features that come with this scanner make it a helpful option for your control needs. The design comes with a thorough layout that identifies contact information and helps you to keep your content organized based on what the scanner says. This feature is helpful when you're looking to make more out of your scanning efforts.
Pros
Works for XLS, TXF, PDF, and CSV files among many others
You can use a Wi-Fi or USB connection
Works on many smart devices
Cons
Difficult to align some smaller documents
May not work with some cloud systems
---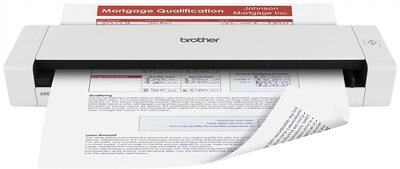 You will notice right away that this Brother scanner offers a compact body that provides a better approach for scanning that only takes a few moments to complete. The USB-powered scanner provides you with support for scanning many document formats. You can use this to scan ID cards, business cards, and other traditional receipts. You can also use this to scan double-sided documents. The setup works well for producing detailed documents in moments.
You can scan things and move them to local or shared destinations of your choosing. You can export items to many programs, although the support for Quicken and QuickBooks makes this one of the most popular choices for you to find when looking to save your content.
The OCR system does particularly well with securing the characters on your documents. You can particularly use this when getting PDFs produced in many forms.
Pros
Includes a separate setup for managing business cards
Works for documents up to 32 inches long
Scans at up to 8 ppm
Cons
No SD card support
May not handle detailed scans in some situations
---
8. Doxie Q –

Wireless Rechargeable Document Scanner
Your last option for a receipt scanner is the Doxie Q, a portable scanner that works with a collapsible automatic paper feeder. The unit can work with many workflows and can handle up to eight full-color sheets of paper at a time.
The built-in Wi-Fi feature on this scanner makes it very easy to handle. You can also work with a companion app for your saving needs. The design ensures you'll have an easier time handling your content.
The added rechargeable battery is one point of the setup to notice as well. The battery provides a useful layout that keeps the unit working for a while. The recharging process is easy to follow as well.
Pros
Works for multi-page PDF functions
Can scan legal-size documents
Works with SD memory cards
Cons
You can only use 8 GB on an SD card on this model
The amount of time it takes to recharge can vary based on how complex the papers are
---
Buying Guide For Receipt Scanners and Organizers
Resolution
You will need to look at multiple points for how you're going to get a receipt scanner ready for your use. The first thing to notice is the resolution on the scanner. A quality scanner should be able to support enough resolution to where it can produce detailed scans that are easy to read.
The resolution on your scanner should be measured based on the dpi rating. This is short for dots per inch. A model with a higher dpi will produce more detailed images with better resolution totals. But be aware that it may take an extra bit of time for a scanner to work when it handles a higher resolution total.
Connectivity
In many cases, a scanner will use a wireless design. You can use this on a Wi-Fi network to secure documents read by the scanner on a hard drive. Some scanners may also connect to a cloud network and save your data on to a cloud account you want to use.
Other scanners require you to utilize a USB connection. The link will help you with directly getting the scanner to work well on your computer.
File Support
One of the best parts of the best receipt scanners and organizers is that many units can work with different file formats. You can get the items you scan and have them converted into PDFs. You may also be able to save multi-page PDFs with the items you scan going in consecutive order, but this feature is not available on all models. You can also get some files converted into Word or Excel files, although you might have to check on the quality of the files you're getting.
The files produced should also be arranged to be saved in the right spots on your computer. You'll have to get the settings on your scanner adjusted to where the files that you save will be moved to the proper setup.
Also, a scanner can use an OCR or optical character recognition setup. The scanner will use software that identifies printed characters and will convert them to digital text. The content should be easy to search through after the file is saved. This is especially ideal if you are producing PDFs and you need something that is easy to search around for.
You have the option to adjust the resolution on your scanner in some cases. A lower resolution results in a faster scanning speed, although the maximum resolution should be determined based on how large your file is and if there are any real specific features that need to be covered.
Paper Management
Your receipt scanner should work with a basic design that takes in paper and lets you scan things quickly. Many receipt scanners can work with traditional sheets of paper, but others can also work with smaller bits of paper. These include narrow receipts and business cards. Many models can even work with items that have hand-written ink on them, even if it is a crayon. But you should look at how well the scanner works without the ink or other item possibly smearing. The paper should be dry before adding it to the scanner.
Many scanners also offer room for multiple sheets of paper at a time. Others can only handle one sheet of paper at once.
You'll also have to look at how well you can move the paper before getting it to scan properly. The scanning bed may come with a small surface that lets you align your paper to ensure that everything can be reached accordingly. It should be easier for you to get your paper read when you have everything aligned accordingly.
Also, the scanning bed should be capable of handling paper sheets up to 8.5 inches wide. The maximum length of the paper will vary based on the particular model you're working with.
Conclusion
Each of the options you have for the best receipt scanner is a useful choice that features different functions and controls that are easy to handle. You'll need to find a model that is suitable for your use when you want to produce something that is easy to set up and provides you with the control you need.
The best choice for you to look at when getting a receipt scanner ready is the Doxie Go SE. The wireless model allows you to scan things anywhere while securing everything through an internal memory feature. The setup ensures you'll have more control over what you want to produce at a time.