A warm bathroom is always comfortable to enter first thing in the morning. But you can't use any conventional heater in your bathroom. Many traditional models are unable to work in humid environments like in a bathroom. Some of these heating units might even become dangerous when the humidity rises.
But you can avoid those concerns by using a heater designed especially for bathroom use. You'll have to look at how well your heater appears and that you'll find something useful enough for your bathroom.
Best Bathroom Heater Reviews
Wall-Mounted Units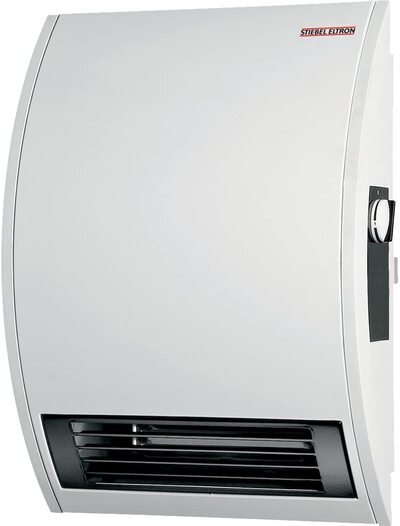 The fashionable appearance of this Stiebel Eltron heater makes it a worthy choice to consider. The quiet design of this heater makes for something you'll love sporting in your bathroom.
Key Features:
Design
A slightly curved body appears on this Stiebel Eltron heater. The heater uses a vent on the bottom to allow a fan to push the warm air out. The housing is also well-insulated, thus producing a quiet layout.
Functionality
This model works by pulling in cool air from the top part and blowing out warm air from the bottom. You can use a one-hour timer to produce added heat, while the built-in thermostat lets you control the intensity of the said heat. You can also turn off the unit through its convenient power switch.
A frost protection setting is also included. The low setting maintains an above-freezing condition to prevent the inside parts from wearing out.
Safety
The thorough design of the heater ensures the unit will not produce excess heat from the outside. The cool-touch body is useful, not to mention the vents won't be exposed far too much, thus preventing the internal mechanisms from wearing out.
Energy-Efficiency
The 2000W model works in rooms up to 215 square feet. You can use a wall thermostat to adjust how the heater works.
Pros
Operates quietly
The construction features galvanized steel built to German manufacturing standards
Effective in bringing in cool air to produce warm air
Cons
The thermostat may be hard to configure
Takes a bit to start up at first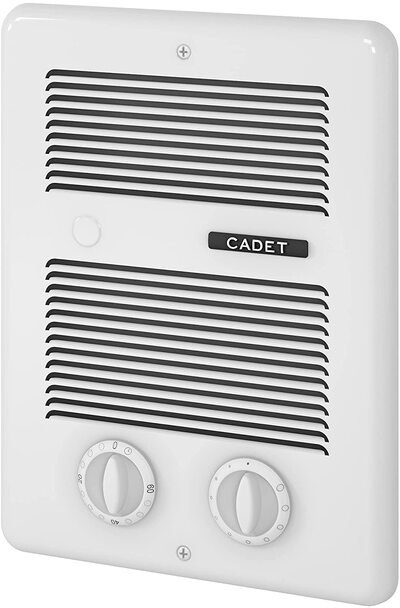 A heater that has an internal thermostat will work well to keep you from using too much energy when heating your bathroom. This bathroom wall heater model provides a body that will keep you warm all the way through.
Key Features:
Design
The wall-mounted design of this heater features a classic look with vents similar to what you might find in a traditional HVAC port. There are also knobs on the bottom for the temperature setting and the timer. You can also use the power button in the middle part of the heater. The design provides a slim look that adds a nice touch.
Functionality
The 60-minute timer lets you adjust how well the heater will operate. Meanwhile, the temperature knob responds well to your needs.
Safety
The low-profile design of the heater grill ensures the internal parts will not be exposed to moisture. The thermostat will also ensure the heat will stay comfortable all around.
A high-temperature shutoff feature is also noteworthy to see. The design stops when there is a dramatic uncontrolled spike in the temperature in the area.
Energy-Efficiency
The 1000W design warms up well and can heat a room up to 150 square feet in size. The thermostat on the inside ensures the heater will stay comfortable.
Pros
The heating element is insulated and will not prematurely wear
Comes with a small body that is easy to set up
The controls are highly accessible
Cons
No labels on the temperature knob
It May be hard to clean out without taking the cover off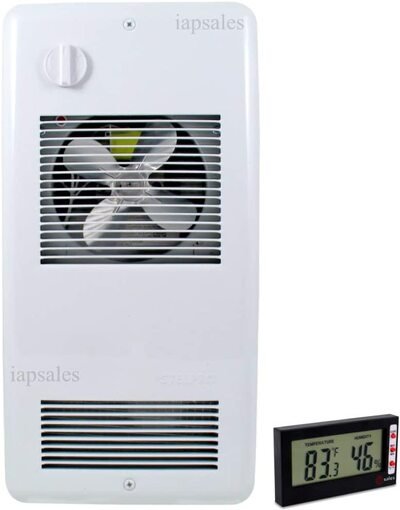 A digital thermostat makes it easier for you to adjust the intensity of the temperature in your bathroom. Stelpro Design makes this wall heater with a digital thermostat that you can set up next to the heating unit itself.
Key Features:
Design
The basic grill design features a knob on the top for manual adjustments, but the digital thermostat nearby makes the real difference. You can use the thermostat anywhere in your bathroom. The digital display works alongside the heater in moments.
Functionality
You can use the digital thermostat to adjust the temperature based on what you prefer. You can also use the knob on the top for quicker adjustments.
The thermostat setup reviews the conditions in your bathroom and lists them out. You can use this to dictate how warm you want the heater to work without having to second-guess what you are getting out of your model.
Safety
The steel cover will last for years and will not rust or wear from any of the humidity that gets in your bathroom. The powerful ceramic heating element is also insulated to where it will not be influenced by moisture, thus producing a more efficient layout for use.
Energy-Efficiency
This model is a dual-wattage unit that works at 750 and 1500W settings. You can use this to adjust the intensity of the heat in your room, and it can work in an area up to 150 square feet in size.
Pros
Easy to adjust the temperature setting
Does not take much time to work
Automatic reset protection is included
Cons
Takes a bit to start up when you turn the power on
The vents can develop dust if not cleaned on occasion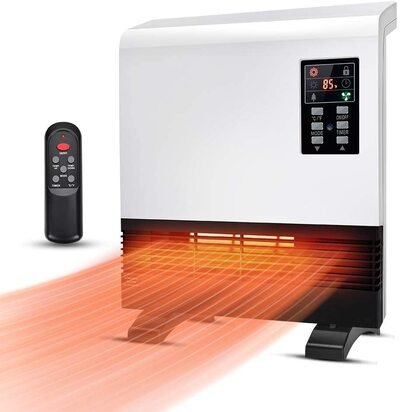 You have the option to use a space heater in many rooms around your home. Trustech makes this model that works well in the bathroom. It is a wall-mounted option that can also be paired with a standing base if you need something portable. But the design does well enough when you get it on your wall.
Key Features:
Design
The design uses a vent on the bottom to administer warm air. The heater requires an extra bit of effort when getting it ready on your wall, but it will stay intact when planned out well enough.
Functionality
The Trustech heater will move warm air out from the bottom. It accepts air from the top area and heats in on the inside.
You can use the digital thermostat to adjust the intensity of the heating unit. The display shows the target temperature you want to warm the room to while also using a fan and a timer when you request their use.
Safety
An overheating protection feature keeps the heater from being too intense in power. An automatic power-off feature allows you to automatically turn the unit off if it stays idle for too long.
Energy-Efficiency
You can switch between different heating levels in the unit. The heater will also work with a fan to help move the warm air out well enough to prevent things from backing up on the inside.
Pros
Quartz heating elements provide fast heat
The on switch is waterproof
The lightweight design ensures the unit stays functional without dragging your wall
Cons
May not work well in larger bathrooms
Not much of a difference between the high and low-heat modes
Ceiling-Mounted Heaters
A ceiling-mounted heater may work when you have a small amount of space and no room on your walls for a heating unit. This Broan-Nutone model features support for your bathroom while using two bulbs for heating.
Key Features:
Design
The design part of this heater entails two infrared bulbs. There are two 250-watt bulbs used here to produce heat. You'll need two 250W BR40 size bulbs to make it work. The slim body ensures the heater stays functional without taking up lots of space.
Functionality
The heater bulbs will add new light in your bathroom, but the infrared light produced will generate heat that penetrates the body and provides a calming sensation that lasts a while. The most essential part is that you don't have to adjust any other thermostat to make it work.
Safety
The recessed design of the heater ensures that it will stay functional without wearing out. You can also appreciate how the heater does not produce excess heat, what with the unit working with a low wattage total.
Energy-Efficiency
A key part of the heater involves its infrared bulbs. The light nature of the bulbs ensures that you won't produce lots of heat. But the best part of the heater is that it features an infrared heating functionality that creates warm air that radiates well and sticks around well without being hard to use.
Pros
The heater operates quickly
Comes with a fashionable appearance
Does not require as much energy as other things
Cons
You have to get the bulbs separately
You cannot control or adjust the specific heat setting on the inside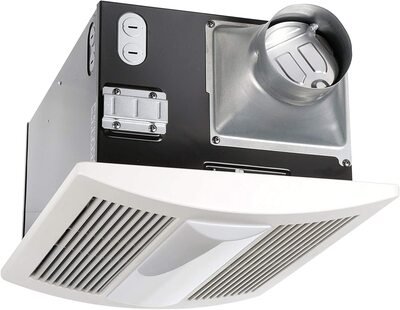 You can use a heater that works directly with your HVAC setup. Panasonic makes this bathroom heater that works directly with your HVAC unit to produce a sturdy connection all the way through.
Key Features:
Design
The WhisperWarm heater uses a slightly curved body that works within your ceiling. The fans on the inside allow the air to move out on both sides. The insulated design of the unit also provides a convenient layout that is very efficient.
Functionality
The heater does well for your room, as it works alongside four-inch ducts and a fan layout that provides a convenient arrangement for use. The added filter on the inside also ensures that the air that comes through is clean and warm.
Safety
The filter ensures the heater gives you a warm feeling all around without any particles getting in the way. The open slots in the vents are also slim enough to ensure the air moves out well without it being overwhelming.
Energy-Efficiency
Panasonic designs this heater to use less energy than most other models. The low-energy design requires less motor power, thus producing a better amount of air movement all around.
Pros
Prevents mold, mildew, and other items from developing
Works with a small light in the middle
The fan on the inside is very quiet
Cons
It May be hard to set up
It works at the same time as any other HVAC vent in your home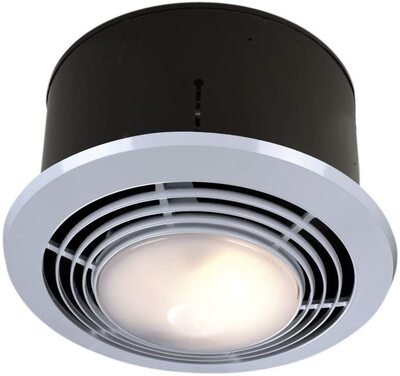 You can use this heater with a switch that lets you adjust how it works in many ways. NuTone makes this model with not only a series of vents but also a gentle light in the middle.
Key Features:
Design
The heater uses a 7W nightlight in the middle to add an extra bit of light without being too intense. The outside parts of the light feature the vents where the warm air can go through. A ventilation fan on the inside moves the air outward.
Functionality
The four-part control knob is part of what makes this product work so well. The knob lets you turn on the light and adjust the intensity of the fan. The feature gives you more control over how well the heater operates.
Safety
The thorough layout of the NuTone heater will work well, but the most essential part is that it doesn't vibrate all that much. The design remains stable in your ceiling.
Energy-Efficiency
The 1500W heater works well, but the 7W light is particularly important. The light ensures it won't produce as much energy for use.
Pros
The light is gentle and adds a nice touch
The four-way switch is easy to configure
Does not add lots of bulk all around
Cons
Takes an extra bit of time to install
Portable Models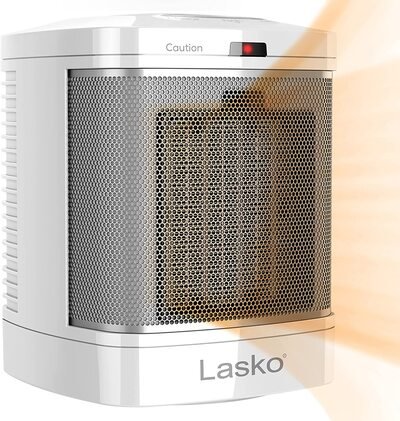 Some of the top bathroom heaters you will find are made to be transported to different places. This Lasko bathroom heater model features a small body that fits well in many rooms but produces more than enough warm air.
Key Features:
Design
The Lasko heater uses a small body a little over three pounds in weight. It is about seven inches on each side as well. The small body comes with a few buttons on the top that let you adjust the settings.
Functionality
The heater produces 1500 watts of power and works with high and low heat settings. The buttons on the top part let you adjust the intensity of the heat.
Safety
The automatic overheating protection feature ensures the heater will not become too warm. The unit will identify any sudden temperature spikes and stop working when the areas around it become too warm. The ceramic element on the inside is also regulated to ensure it produces a consistent amount of warmth.
Energy-Efficiency
A one-hour timer appears in the heater. The timer will ensure the unit doesn't work for far too long.
Pros
Compact body
The design is easy to utilize
You can fit the heater on any counter or another flat area
Cons
Does not have a tip-over shutoff feature
It May feel too warm when you touch it
It's always a good idea to have a bathroom fan that is easy to adjust as necessary. DeLonghi makes this portable model with a few knobs that are clearly labeled and give you more control over how well you can heat your bathroom.
Key Features:
Design
The compact arrangement of the heater is the most noteworthy point you'll see on this model. The design is about ten inches in height. A wide base also ensures the heater will stay in its place without tipping over. The electric cord that links to it will not get in the way or add too much weight all around.
Functionality
The heater works well for various small rooms, but it is especially ideal for bathrooms. The unit operates with separate controls for fan speed and the intensity of the heat. There's also a 24-hour timer knob that lists the specific time you're getting the heater to run.
The foot pedal on the heater allows the unit to oscillate to move warm air to more parts of your room. The design moves the heat in many directions in moments.
Safety
The reinforced body prevents drips and condensation from developing. The anti-freeze setting also allows the heater to operate without any freezing parts.
Energy-Efficiency
You can use this with a simple plug-in connection. The design allows the air to move through without being rough in use.
Pros
Comes with an appealing physical body
Easy to adjust the unit
The base provides enough room for keeping the heater in its place
Cons
The timer setting is very sensitive
No tip-over protection
10.

Opolar Space Ceramic Bathroom Heater

– A Safer Choice
Your last option for a useful bathroom heater is this model from Opolar. The design features a thorough base that makes it easy for you to control the heat, while also ensuring the unit will not topple or be at risk of possible harm.
Key Features:
Design
The small design on this heater features a flat base and a knob at the top for control purposes. The wide layout also allows air to move out in more places.
Functionality
An oscillation feature lets the unit move in different directions to project warm air in more places. The inside fan moves the air out fast, not to mention it doesn't need any open coils.
Safety
The best parts of this heater entail how it is safe. A tip-over protection feature automatically stops the unit when it tips over. An overheating protection feature also turns the unit off when it becomes too warm.
A circuit protection plug will cut the power source when there are any electric risks in the area. The buttons on the plug ensure you won't use more power than necessary.
Energy-Efficiency
You can use this with a 750 or 1500W setting. The ceramic heater also keeps the unit from using excess energy.
Pros
Light at a little over four pounds
Cons
Can still be impacted by water if it gets in the way
Takes a bit to recover after it shuts off from overheating
Things to Consider When Choosing a Bathroom Heater
There are multiple points that you can use when looking at a bathroom heater for your home:
1. Heating Capacity
Look at how well the heater can operate in your bathroom. A heater may be measured based on how many square feet of space it can warm.
2. Energy Usage
All bathroom heaters use energy in some form. A heater can be measured according to its wattage. A unit that uses more watts will produce warmer air and can operate faster, but it will also use up more energy.
3. Settings
You can use various heat settings on a heater. These include multiple settings based on how intense the heat should be in your room.
Some sensors may also identify when the conditions in your room are changing in some way. A sensor can start the heater up when the surrounding temperature reaches a certain threshold. The feature can also stop the setup when it gets too warm.
 4. Placement
Many bathroom heaters can be placed on a shelf or counter in your bathroom. But others can also be installed on your wall or on your ceiling. Such mounted or recessed heaters might take an extra bit of time to install, but they might be easier to use and can allow for more air to move through.
5. Safety Features
A heater should come with sensors to identify when the heater should stop working. A metal grill or other sturdy covering is also needed to ensure no one will come in direct contact with any of the heating elements.
A safe model should include cool-touch housing that won't be too intense. It should also feature a wiring setup where all the connections stay inside and won't be exposed, thus producing a safer body.
How does a Bathroom Heater Work?
A bathroom heater is a small appliance that you can fit in your bathroom. A heater will appear in one area, usually on a wall or ceiling or on a shelf.
The heater produces warm air through a small mechanism. A ceramic heating element or another item will be warmed up. The air goes throughout the bathroom through a blower or fan.
You can adjust the warm air with a few knobs or other controls. The most important part of the heater is that it can operate in a humid environment. You'll have to ensure your bathroom heater is rated to where it can work in such an area. The humidity in your bathroom can be substantial, especially when you're taking a shower, shaving, or doing something else that requires plenty of water.
Measuring the Wattage
A good idea to consider for your heater involves looking at the wattage produced versus the square footage of your room. A good rule to use is to get 10 watts of power in your heater for every square foot of floor area in your bathroom. The measurement should work in a bathroom that is well-insulated and has a ceiling that is about eight feet high.
If your bathroom is 150 square feet, you should aim for a heater that works at 1500 watts. A larger master bathroom at 250 square feet could use something that works at 2500 watts. A powder room at 75 square feet only needs a 750-watt model. You'll have to be sure you plan the right wattage for your heater based on what fits.
Benefits of Bathroom Heater
A bathroom heater is ideal for many reasons:
You can keep steam from building up around your bathroom after a shower. When you use a heater alongside a traditional bathroom fan, you can allow the air to move around a little better, thus preventing all that moisture from building up around your mirrors and other spots after you shower.
A heater will also dry out your room a little faster after showering or doing other things. Your baseboards and other fixtures will not be at risk of premature fatigue.
Your bathroom heater can also help you to feel relaxed in the morning. Your joints, muscles, and other parts will feel more stimulated.
You may also experience better cardiovascular circulation when you use a bathroom heater. The warm air can help you feel more comfortable in the morning.
It may be easier for you to use the bathroom in the morning if you have a quality heater on hand. The cold conditions in your bathroom during the early part of the day can be difficult to bear, but a heater ensures you won't have to worry all that much.
Safety Tips For Bathroom Heaters
While today's bathroom heaters can feature various safety points, you'll still have to watch for how you're going to use your model. You'll have to use a few points when getting a heater ready:
Be sure the heater is in an area where it remains stable and secure. A wall-mounted or ceiling-installed unit is best.
Keep the wiring and other features around your heater from being exposed. The wires could create a fault.
Avoid getting water directly into the heater. The unit may not work as well if you splash water all around. While a bathroom heater can handle added humidity, the point does not mean it can persist in any watery condition.
Check on how well the heater operates on occasion. You might have to clean the grill out to prevent dust and other things from building up.
Many heaters come with filters. You would have to clean out a filter on occasion to ensure the heater remains safe for use.
Installation Tips and Requirements
Items Necessary
The following tools are necessary when aiming to install a bathroom heater:
14-2 or 12-2 cable
Drywall screws
Electric tape
Plywood
Screwdriver, drill, and pliers
Cutting tools; a drywall saw is ideal, although a circular saw may also help
Stud finder
Extension cord; look for a new model that doesn't appear worn
The Steps Necessary
It is best that you consult an electrician to install a new heater. An electrician can help you identify live wires and other connections that have to be avoided.
The steps that your electrician can use will ensure the best possible experience for your heater, but it helps to know them yourself to understand what's going to happen. The process for installing a bathroom heater entails the following points:
Check on where the electric connections are around your bathroom. The work includes looking at how well you can get a heater and thermostat installed. You can use this to identify the ideal locations for the two parts.
Add a 12-2 or 14-2 wire through the ceiling drywall. The link should go between the locations for the thermostat and heater.
Open the appropriate holes in your walls for the heater and thermostat. Be sure to watch for any studs that might appear. A stud finder can help.
Run the wire you used earlier to the areas for the thermostat and heater. You can produce a ¾-inch hole in any spots around your plywood where needed.
Apply the appropriate electric wires to your heater and thermostat. Check the specific instructions that work with whatever heater model you use.
Secure the housing for the two parts. You might need to apply plywood around the outside areas to create a steady body. You may also need to add some mounting screws around your heater to ensure everything works.
Make sure the connections are secured and that the wiring works.
Remember to contact a professional electrician for help and to ensure the safest possible experience when getting your heater ready.
What About a Portable Model?
You also have the option to use a portable bathroom heater if you prefer. The heater would require you to plug the unit into an appropriate power outlet. The work might be useful, but you'd have to be cautious when getting your heater ready. A wall or ceiling-mounted model might be safer because how it's not going to be at risk of tipping over. Also, a portable unit might not deliver the warm air you need all the way, although this could vary based on how well you can get your heater set up where you are.
Cost to Run a Heater in Batroom
The expense for running a bathroom heater will vary based on how often you use it and whatever the local electric rates are at your property. You can figure out the cost to run by multiplying the kilowatts being used by your local electric rate to get the total cost for running something for an hour.
Let's say you have a 1500W unit, and the electric rate was 10 cents. By multiple 1.5kW by 10 cents, you'll get 15 cents per hour. It would cost $3.60 to run the heater for 24 hours.
The lightweight energy usage involved would be a useful point for the bathroom heater. You'll find that a heater won't produce as much energy as you might expect, although you'd have to ensure you only use the heater when necessary to keep from using more money in the heating process than what you wish to use.
Editor's Pick
Our preferred choice for the best bathroom heater for your home is the Stiebel Eltron 074057 Electric Fan Heater. The design on this heater provides a simple approach for use, not to mention it does not work too hard. It works in minutes, and it will not require too much effort for it to produce enough warm air. The unit also works with a wall thermostat to facilitate how well the design works.
Conclusion
It is great to see how a bathroom heater can give this important part of your home the added comfort you deserve. A heater provides enough warm air for your life, including when you're looking to feel your best in the morning. The versatile functionality of a heater is worth noting, but it helps to ensure that your heater is operational and that you can find something easy to use.
You have to find a choice that is efficient as well. You'll find that many bathroom heaters don't produce as much warm air as you might assume, but you'll have to look at how well you can control the heat on your model. It won't be hard to get something running well if you know what to expect out of your choice.