Nerf has been producing top-quality foam toys since 1969. The company continues to grow as a prominent name thanks to its innovative combat toys. Kids love to play with Nerf guns as they can compete with each other in various fun physical challenges.
It is always great for kids to have fun with their foam guns as they can run around a field and challenge each other in many ways. But not all Nerf guns are ever truly alike. There are various different models for you to check out with each offering different fine features.
This guide will help you to review what Nerf guns are available for anyone to play with. Each model is unique and includes many fine features. You can also find some of these Nerf guns in different lines that the company makes with each line coming with different fun features that you and your kids will enjoy playing with.
Top 3 Nerf Guns in 2023
| | | | |
| --- | --- | --- | --- |
| Product | | | |
| Brand | NERF | NERF | NERF |
| Dimensions | 2.87 x 14.49 x 7.52 inches | 2.76 x 25.39 x 10.51 inches | 4.02 x 20.98 x 12.76 inches |
| Item Weight | 1 pound | 5.3 ounces | 2.75 pounds |
| Special Features | Designed For Basic Handheld Use | A Better Grip For Firing From Four Barrels | Get the Darts Out Fast |
Best Nerf Guns Reviews
Let us check out the specifications, uses, pros, cons, and more related aspects of these top 10 best nerf guns one by one.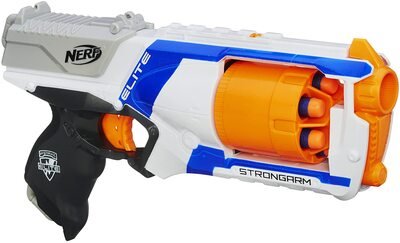 The N-Strike line of Nerf guns focuses on a more tactical approach. This Elite Strongarm Blaster gun offers a smaller pistol-shaped design that allows the user to quickly get it out while on the field of play.
A rotating barrel is used for storing six darts. These darts can shoot up to 75 feet in range. The barrel advances automatically as the darts are fired. It is also easy to open up the barrel to load up new darts for firing, thus making this an effective model for use when shooting different things.
You can even add a Nerf Tactical Rail to the top of the gun to make it easier to shoot out of. Be advised that this accessory is sold separately.
Pros
Easy to load up
The barrel moves quickly and shoots right
Lightweight body
Cons
The barrel can be jammed if loaded improperly
The darts are small in size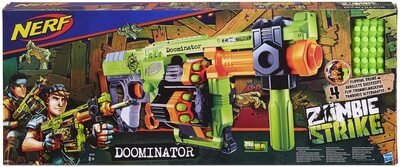 The Zombie Strike series of Nerf guns offer an extreme style with a zombie-themed style. The Doominator Blaster is a model in the Zombie Strike line that features a small handle at the front part to help you keep a good grip on the gun. This works with a traditional handle at the back end to add a comfortable surface for carrying.
The four barrels on this model rotate between one another. Each barrel can handle six darts at a time. Each of these darts can fire at about 50 feet in length.
You can flip from one drum to the next after you run out of darts on one of those drums. The process of flipping along drums is easy to handle with a lock feature on the gun. The design of the gun improves upon how well you can shoot darts.
Pros
Large capacity
The drums are well laid out along the gun's body
The handles are easy to grip onto
Cons
Heavy in weight
Takes a while for you to get it all loaded up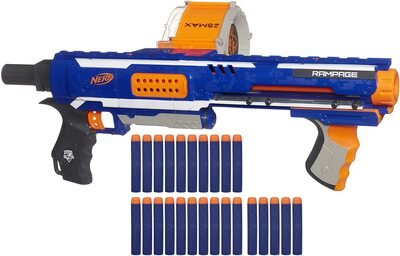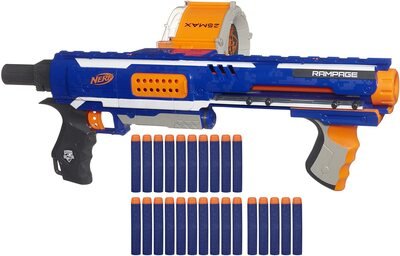 This next model in the N-Strike series uses a drum with a slightly different layout. With this, you will add 25 darts at a time. The barrel supports the Elite dart line and adds a good body for shooting that only takes a few moments for you to utilize.
The drum connector lets you add and remove the drum in a few moments. You can add the darts into the drum in a quick bit of time.
A slam fire handle is included to help you shoot the darts out of the blaster in rapid-fire succession. You can also fire these one at a time if you prefer.
This model also comes with two handles on the front and back parts. These two handles let you get a better grip over the gun and help you to get a quickfire running in little time.
Pros
Easy to secure the dart
The simple layout offers a good loadout for your darts
The Slam Fire handle is easily accessible
Cons
The darts have to be loaded properly for this to work
Does not work with darts outside the N-Strike Elite line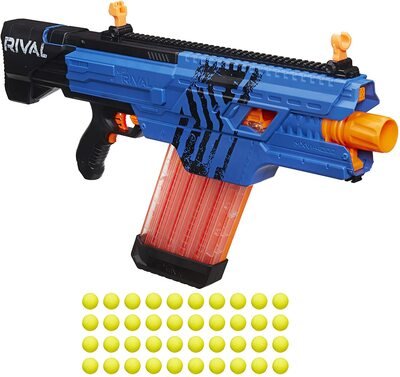 Not all Nerf guns use darts, as this Rival Khaos blaster shows. This uses a series of smaller yellow foam balls that are secured through a small cartridge that you add to the bottom part of the gun. The foam balls are loaded into a series of even slots for your convenience.
The unit produces shots at 100 feet per second. The sights on the top part of the blaster help you to align your shot and get an approximate aim, a good feature to have for your targeting needs.
A small motor is also included inside the blaster. The motor works when you push the trigger on the gun. The unit will keep the balls running out fast. The component adds a bit of extra convenience for helping you to keep a great shot going in moments.
Pros
The smooth muzzle allows the balls to fire out quick
The trigger lock lets you stop the shots when you don't need them
Easy to load
Cons
The motor takes a bit to work
It May be too heavy for some at 5.5 pounds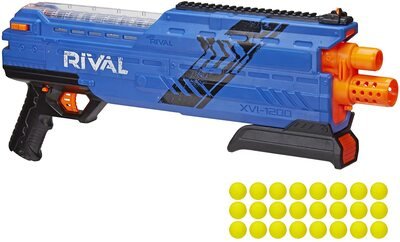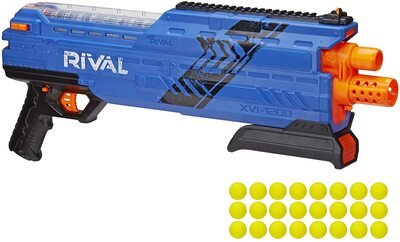 The appealing part of this ball-based Nerf gun is that this model offers support for firing two balls at once. Pull the trigger and the spring-action setup will release two of the 12 balls that you load into the magazine. These balls can fire at speeds of about 80 feet per second.
The two ports at the top part of the gun help you align your shots carefully. The design adds a comfortable organization that lets you keep a shot moving well.
The cartridge at the bottom part will quickly load up the balls. A tactical rail is included at the top part to help you see what you are aiming at and to help you align your shots the right way. A trigger lock is also included to help you keep from firing your shots off prematurely, thus giving you some extra control.
Pros
Powerful shooting speed
Easy to load up
The balls move out evenly between both of the ports
Cons
Heavy in weight
The balls are rather small in size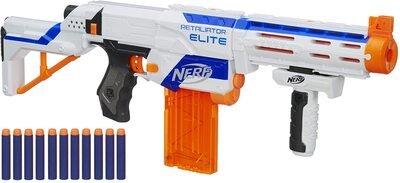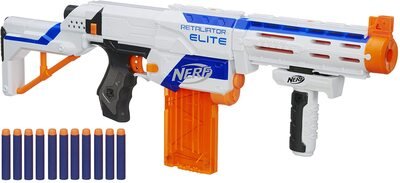 The intriguing part of this blaster in the N-Strike Elite series comes from its clip. The clip can handle 12 darts at a time. The clip can be added to the bottom part of the gun to allow for the model to shoot out darts one at a time. The spring-action setup lets you get the darts out fast.
But the most attractive point comes from the versatility of the blaster. You can get this model to work with four different assembly layouts. Each varies based on the holding parts you use and how well you have access to the dart trigger. The design gives you more control over your shots, thus helping you get the best shots possible.
A barrel extension includes tactical rails on the top and bottom parts. You will have more control over the gun thanks to these parts.
Pros
Simple reload clip interface
The gun is easy to configure into different layouts
Quick-to-use tactical grip features
Cons
Does not offer as much of a range
Heavier than most other models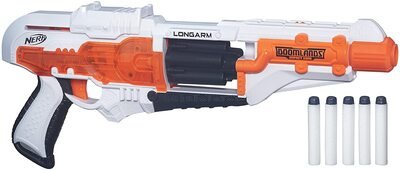 Those who want something for is ideal for short-range attacks will enjoy what the Doomlands Impact Zone Longarm has to offer. The model uses a five-dart barrel with a rotating body. The inner firing functionality allows the darts to move out fast. The drum is also easy to open up and load. You only need to flip the drum open to get access to this feature.
This model uses a small handheld body that is about a pound in weight. The design is suitable for younger users while offering a grooved handle.
You can particularly use this model for short-distance attacks. The design has small enough a body to make it suitable for more close-range uses. The model works especially well for those aiming to make better and more accurate shots from a close range.
Pros
Simple gripping feature
Easy to load up
Quick firing mechanism
Cons
Does not produce much of a range
Small capacity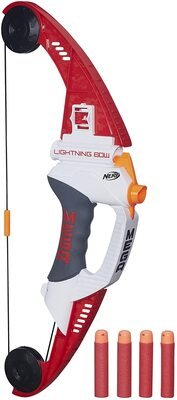 This next option is a little different from what you have read about as this choice is a bow and arrow-based setup. This uses a special Mega dart setup. You will load four darts on the top part of the set and then align them along with the bow. These will automatically launch as you pull back on the bow and arrow setup. The convenient design of the bow and arrow gives you a comfortable layout for firing.
The line for the bow and arrow is flexible enough to help you add more force to the dart. The wire will not create lots of vibrations, thus allowing you to keep a good shot moving. The small targeting sight on the middle part of the bow and arrow set allows you to keep a good shot running.
Pros
Simple loading feature
Produces few vibrations with each shot
Helpful sight for aiming
Cons
Requires extremely specific darts
Can be hard to get a grip on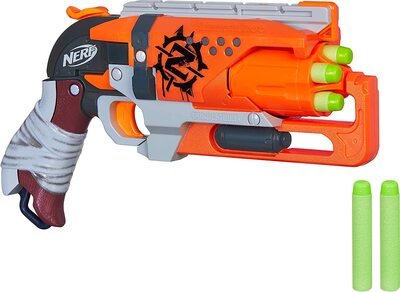 Your next choice is made with short-range shooting in mind. At about a pound in weight, the Hammershot blaster uses five darts in its drum barrel. This uses a quick-firing layout for giving you the best and most responsive shot possible.
The hammer-action blasting setup gives you extra control over your shots. You can use this to get a shot off fast in a matter of moments.
The best part of using this blaster is that the model is very portable and can be used one hand at a time. The organization of the blaster gives you extra help for keeping a good shot moving in a matter of moments.
Pros
Easy to handle with just one hand
Quick trigger response
The darts flow out quickly and evenly through the gun
Cons
Uses special Zombie Strike darts instead of standard Nerf darts
Does not produce much of a range for firing use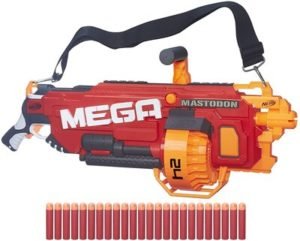 Your final option among the best Nerf guns is this model that features a special motorized drum. A 24-dart rotating drum is used here to help you get the 24 Mega Whistler darts out quickly. The drum can help project those darts by 100 feet.
A three-piece layout is used on this model. The drum cage also comes with two drum covers for your added convenience. A strap and handle are also included on this body to keep a good hold going.
The model requires six D batteries for you to get the motor to start working. When the design works, the layout lets you get the darts out quickly while going at the furthest distances powerful.
Pros
The convenient strap lets you keep a good hold on the gun
Long-distance shooting
The drum is easy to assemble, open up, replace, and fill with darts
Cons
The Mega Whistler darts are not easily available in refills
The batteries add lots of weight to the gun
How to Pick the Best Nerf Gun?
Review the Darts
Take a look at how well the darts on your Nerf gun are laid out. Some Nerf guns can only support a specific type of gun. For instance, the N-Strike Elite series of guns can only work with darts within that specific line. You can find dart refills at the same places that you buy your Nerf guns.
Don't forget that some Nerf guns use ball-based materials instead of darts. These are a little different and should be planned accordingly based on how you can get a good loadout going.
What Is the Mechanism?
Each Nerf gun uses a distinct mechanism that allows its projectiles to come out. Look at how well the design of the gun is handled accordingly. Some models focus on items that shoot continuously while others let you shoot things one at a time.
How Old Is the User?
The more complicated and heavier Nerf guns are recommended for those who are a little older. These include guns that can handle more darts or balls at a time.
Review the Handling
See how well you can handle the Nerf gun. Some models can be handled with just one hand, but others require you to keep a good grip. Be sure you see how well the gun can be held and how easy it is for you to work with while on the run.
What are the Best Nerf Guns in the World?
Below are some of the best nerfs guns on the market:
1. N-Strike Elite Strongarm Blaster
2. Zombie Strike Doominator Blaster
3. N-Strike Elite Rampage Blaster
4. Rival Khaos MXVI-4000 Blaster
5. Rival Atlas XVI-1200 Blaster
6. N-Strike Elite Retaliator Blaster
7. Doomlands Impact Zone Longarm
8. N-Strike Elite Mega Lightning Bow
9. Zombie Strike Hammershot Blaster
10. N-Strike Mega Mastodon
Tips To Ensuring Kids' Safety While Playing With a Nerf Gun
There are several additional things to notice when getting a Nerf gun ready for your kids to play with:
Make sure your kids know how to hold onto their Nerf guns the right way. This includes seeing that they can hold them without losing control from any shaking motions.

Keep from aiming anything at one's eyes or any sensitive spots. It is easy for a dart or ball to hurt a person due to how fast it can move out.

Keep kids from trying to handle too many small parts. Each Nerf gun should be organized to that the gun will not shoot out too fast.

See that your kids know how to load up their guns as needed. You need to ensure they can handle them right and that the guns will not come loose or become too dangerous to use for any reason.
What is the Best Nerf Gun Ever Made?
From our perspective, we have found that N-Strike Elite Rampage Blaster is the best nerf gun ever made for your kids. We like how the gun can handle more darts in a simple and easy load up the drum. The gun also has convenient handles for helping the user to keep a good hold on the gun. The lack of vibrations produced by the gun makes this particularly useful.
Conclusion
All of the Nerf guns listed here allow you and your kids to enjoy some great shots and a fun experience. The designs of each gun work with versatility and functionality in mind. You can also use these guns to shoot many types of darts or balls, thus giving you many choices for a fine shot all around.
Each gun out there is different based on the situation each is appropriate for. Some models are great for long-distance shots while others are for quick shooting and shorter ranges. But whatever you find, you will surely notice that there are many attractive choices that add a great approach to your shooting needs. Check all the guns we have listed the next time you are looking for an effective model.