You'll need a MoCA adapter to connect to a Multimedia over Coax Alliance network. A MoCA connection makes the Wi-Fi inside your home better. You'll enjoy faster speeds, not to mention low latency rates. You can even use a MoCA connection with the coaxial wiring in your home, so you don't have to drill any new holes or run any new wires around your property.
But you must have a MoCA adapter that is capable of handling such a link. A MoCA adapter will help you in getting better speeds without having to get new Ethernet cables installed around your property. This guide will help you find the best MoCA adapter for use for your connection needs.
5 Best MoCA Adapters Reviews
You can get a MoCA adapter to work with multiple items in your home. This Actiontec model is one such choice to note.
With this MoCA adapter, you can link your connection to use sixteen devices. The connection uses a layout that features a Coax In port and a TV-Out port on one side, and an Ethernet connection port on the other. The layout supports a better connection and can work with any coaxial wall connection around your home.
The Actiontec adapter provides support for up to 1 Gbps speeds. The support is ideal for large file downloads. You can also use the adapter if you need to download a larger file.
The adapter also works with a 10/100/1000 Ethernet standard. The Ethernet standard focuses on the transfer rate that you can support. Since multiple devices in your home may only support certain speeds, having this standard is critical for providing better speeds. The Actiontec converter helps you attain those speeds consistently and without any significant interruptions in how it works.
The design comes with a compact body that fits in most places. You can store this in a secure spot near a router or other device without creating anything distracting. The lights listing when something is plugged in are also easy to note without being overly bright.
Pros
The speed performs the same way for all devices it links to
Does not produce interference with other devices
The connection produced is consistent
Cons
You might need to get a second unit depending on the size of your property
The reset button is hard to access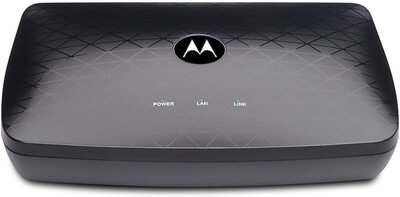 You'll need to ensure your MoCA adapter can handle both the current MoCA 2.5 standard and other older ones. The MoCA 2.5 standard provides support for faster speeds and more channels.
The Motorola MoCA adapter provides support for all MoCA types from 1.0 to 2.5. The bonded 2.0 link provided by the Motorola connection ensures speeds of up to 1 Gbps. The link provides better speed and latency than what a traditional connection might feature.
In addition to these features, your adapter comes with a point of-entry filter. The design prevents unauthorized access to your network, thus producing better security.
The coaxial cable support does not produce interference with other items in your area. It will not impact any cable or fiber-optic services you use on your property.
The setup all comes with a simple plug-in setup. You do not have to configure the MoCA adapter or adjust the router in any way to make it work.
Pros
The on-off switch is recessed to where you won't accidentally trigger it
Works with all major video game consoles that support online connections
Works with up to sixteen devices at a time
Cons
All the ports are on the same end of the box
Does not work with satellite television connections
Unable to work with AT&T internet connections or AT&T U-verse coax networks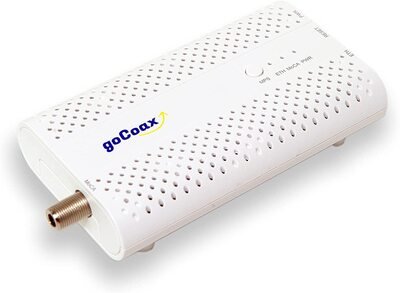 Having an adapter that is easy to arrange and set up will make a difference. goCoax makes this MoCA adapter with a small body of under four ounces. The design features one side with MoCA and TV ports. The other side has a power port, a LAN plug for the Ethernet link, and a small pinhole spot for concealing the reset button.
The goCoax adapter works with up to sixteen devices at once. The 2.5 Gbps bandwidth support is shared by all the devices. The high total is ideal for people who want to stream 4K videos or play online games.
The quick speed also ensures you'll have the lowest latency totals. General measurements with this model suggest that you can get latency as low as 3ms, which is among the lowest totals you can find. The low latency is critical for many online needs, but it is especially essential for online gaming.
The plug-and-play nature of the adapter is a huge plus. The ports and layouts give you quick access to the segments needed for getting your adapter ready for use.
Pros
Do not overheat while in use
Can be installed anywhere in your home without worrying about interference
Starts up moments after you activate the device
Cons
You May start to slow down when you've got lots of devices working at once
It May does not work on Verizon Fios connections
Not all MoCA adapters have to be overly elaborate. This ZyXEL adapter uses a standard layout that provides quick access to fast Ethernet speeds. The 1.4 Gbps support provided by the adapter allows for more control over your online experience.
The design also uses a built-in Gigabit Ethernet point that works with your existing router or other devices that can support Ethernet signals. The plug-and-play design ensures you'll get online faster without worrying about how well you can configure your setup. No additional configuration is needed for making this work.
The small body does well for keeping the connection going without taking up lots of space. The convenient design ensures you'll have more power over what you're doing while online.
You can also use the adapter on most smart devices in your home. ZyXEL promotes this adapter as being capable of working on an Apple TV unit.
Pros
The device starts up fast and produces maximum speeds in no time
Works well with servers and other heavy-duty items
Do not experience any latency spikes while in regular use
Cons
Speeds may be faster at places closer to the install
You might need to get a separate security filter device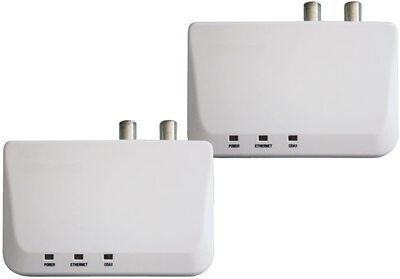 There might be cases where you have too many items that you need to connect with at once. This Kiwee broadband adapter set features two separate units that can work throughout the house. One can work on your router, and another can be used on a high-end device like a computer, television set, or video game console. Having both of these workings at once gives you consistent coverage throughout your home.
The Kiwee adapter set features support for speeds of up to 1 Gbps around your property. The design is suitable for many items, but Kiwee particularly says that it works especially well with certain boxes. Among the items, you can use the adapters including a TiVo box, a Verizon Fios connection, and an Xbox or PlayStation console.
The 1 Gbps speed and bandwidth support provide room for more items. You can get a consistent flow of speed for all items. The stability of the connection also provides a better approach to your connection no matter where in your home you need the support.
Pros
The plug-and-play design gets things working in moments
Does not experience latency spikes
The speeds are consistent among every type of item you can use this on
Cons
The ports are all on the same side
Both of the units have to work at the same time for the best results
Buying Guide For Best Moca Adapter
What Is a MoCA Adapter?
A MoCA adapter is a device that connects you to a Multimedia over Coax Alliance setup. The MoCA network is one that operates between 500MHz and 1.5GHz.
The MoCA network lets you connect to a Wi-Fi signal while remaining stable. The connection ensures you'll be online without being at risk of getting disconnected. The frequency works without producing interference from other media in your home.
The adapter works for when you're aiming to get faster online speeds without getting an Ethernet connection. While an Ethernet connection can provide the best connections around, it is not available in all areas. You'd also have to replace the wiring throughout your entire home.
But a MoCA adapter works with the existing coaxial television cables in your home. It'll be easier for you to get better signals when you use a MoCA adapter.
How Does a MoCA Adapter Work?
The MoCA adapter uses a few points for work:
You will connect your MoCA adapter to the coaxial cable or coax port in your home. You should have plenty of ports around your home.

The adapter will then link to a router that produces the Wi-Fi signal in your home. An Ethernet cable will work between the items.

The adapter may also link to different devices that don't require a router for online access.
Why Is This Better Than a Standard Wi-Fi Connection?
A MoCA adapter will not fully replace the Wi-Fi connection in your home. Rather, the adapter will enhance the connection's stability.
A MoCA adapter uses a wired connection that produces a more stable link. The latency rate on your MoCA link will be significantly lower than what you'd get with Wi-Fi alone. The latency refers to how long it takes for a response to come when you get an online signal moving. You need the lowest latency possible, but a wireless Wi-Fi link can be hard to predict. A stable wired MoCA connection produces better latency.
The MoCA adapter also ensures you'll get an enhanced Wi-Fi connection without impacting the bandwidth or any other frequencies. The design produces a better connection with no dead zones.
Like with any other online connection, there is a potential for attenuation. The attenuation rate refers to how the signal becomes weak as it travels. The coaxial cable support produces a dramatically lower attenuation rate when compared with a wireless link. The stable link ensures you'll have more control over your connection.
Why Use This Instead of Fully Hardwiring Your Home?
It is easier to use a MoCA adapter than it is to hardwire your home. The problem with hard wiring your home for Ethernet use is that you'd have to get new wiring. It could take a while to get the Ethernet connection ready. The expenses for the new materials and the professional work necessary for getting the connection running can be dramatic. A MoCA adapter is a simpler, more convenient, and more affordable approach to getting faster online speeds that you'll enjoy.
The only Ethernet-related item you need is an Ethernet cable that goes between the adapter and the router or device. The cable supports faster speeds.
Is It Easy to Set Up Your Adapter?
The process for setting up your MoCA adapter is as follows. The rules may vary based on what you use, although the standards are simple:
1. Plug an Ethernet cable into the Ethernet port on your MoCA adapter.
2. Plug the other end of your Ethernet cable into an open Ethernet port on a modem or router.
3. Connect a coaxial cable to the Coax In port on your adapter.
4. Link the coaxial cable to the proper coaxial port on one of the walls in your home.
5. Plugin the power source port on your adapter. The power port can link to a traditional wall outlet.
6. You might need a second adapter depending on what you use. You would need another Ethernet cable going between the second adapter and whatever device you want to connect to the internet. You'll also have to get a second coaxial cable ready for that adapter.
The process should ensure you get your devices connected online.
How to Choose a MoCA Adapter?
You will have to look at a few things when finding a MoCA adapter of use. These points include the following:
1. Installation
Look at how well you can install your adapter. Many adapters are easy to the plugin, but you should ensure the plug works well.
2. Layout
Be sure the layout of your adapter has all the necessary parts for work. The Coax In and Ethernet ports should be visible.
3. Range
Look at how many devices your MoCA adapter can support. An adapter should be capable of working on multiple items at once. In many cases, you might only need the adapter to work on one specific item. But in other cases, an adapter can work with a router to spread better signals to as many things in your home as necessary.
4. How Many Necessary
Sometimes you might need to get two adapters depending on what you use. One adapter is for your router, and another is for another device. Check the instructions for your adapter to see what works.
5. Security
Look at the security features in your MoCA adapter. You need something that can identify unusual attempts to get online and provide network protection. A bridge detection feature and a management proxy setup may appear on today's newest adapters.
6. MoCA Standard Support
You may notice that certain items can only support certain MoCA standards. The version of MoCA you use should be noted. The most recent version of MoCA available is MoCA 2.5, which offers faster connections of up to 2.5 Gbps and support for getting more channels working.
A MoCA adapter can include support for multiple standards, including the older ones like MoCA 1.0, 1.1, or 2.0. You should see that your adapter has support for whatever standard you wish to incorporate.
7. Display Features
The display features may include small lights and other signifiers letting you know you've got a good connection running. The display lights should be visible but not overly bright or distracting.
Editor's Pick
Our choice for the best MoCA adapter you can get is the Actiontec MOCA Adapter for Ethernet Over Coax unit. The design on this one is simple, not to mention it gets you consistent speeds all around. The setup process is easier to handle too, so you'll get your signals ready as soon as possible.
Conclusion
You have many choices to note when looking for a MoCA adapter. No matter what you choose, you'll find a solution for faster speeds that will get you online in moments. You won't have to worry about spending all day getting an Ethernet connection ready, as the only Ethernet-related thing you need is a cable to link the adapter to a device or router. You'll appreciate the faster and more stable Wi-Fi speeds you'll get off of a MoCA adapter.