A random orbital sander could be one of the most valuable tools you ever have in your garage. This kind of sander uses a design where the angle of rotation on the head and disk used on the sander can be varied. You can use a sander like this to take care of many wood surfaces.
The random sanding motion on one of these appliances ensures that your tasks are completed accordingly and that you can cut down even the most difficult surfaces. But you have to look around well to see what types of sanders are available for your use before you start.
This listing of the seven best random orbital sanders includes some helpful choices that are convenient for your use. Take a look at these options when finding something that fits in with your sanding requirements.
7 Best Random Orbital Sander Reviews
1.

Tacklife PRS01A

– Features Many Speed Choices
You can start working with a sander by using this Tacklife model. This offers many speed choices for your convenience including six options that work at up to 13000 OPM. The knob on the side makes it easier for you to switch from one speed to the next.
The 5-inch head design works well with many sandpaper circles in various grains. A dust box is also included to collect the dust that is produced by the machine, although this works best when there are enough ports on the sanding surface to take in that dust.
This all comes with a thick body that is easy to support The body offers enough of a good base for handling many sanding pads.
Pros
Works with many added attachments including a belt sander
Works with a large handle for gripping
Can be used by left and right-handed users without effort
Cons
Takes a bit to turn in one angle or direction
The power cord is short in length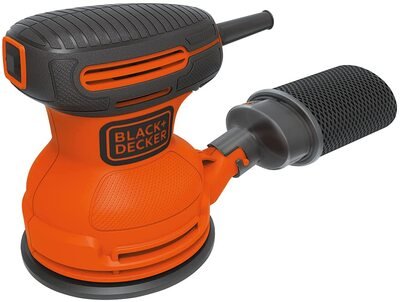 This next choice is from Black and Decker, a popular name in the world of power tools. This sander uses a hook and loop system for handling quick sandpaper changes. There are plenty of holes around the body of the sanding head to allow dust to be collected accordingly. This keeps dust from being likely to spread around quickly.
This all comes with a small body that does not take much to handle. This weighs a little under three pounds even when the added cord for the unit is considered.
A small dust canister is found on the end. This takes in the dust and can be screwed off for emptying and then screwed back on in a few moments. The simple organization gives you more control over the dusting process.
Pros
Easy to clean by opening and dumping out the dust collector
The handle design fits the user's hand quite well
You can add many compatible sandpaper heads in moments
Cons
Works best with Black and Decker sandpaper items and not other brands
The cord is short in length
3. Makita BO5041K – Multiple Speeds Available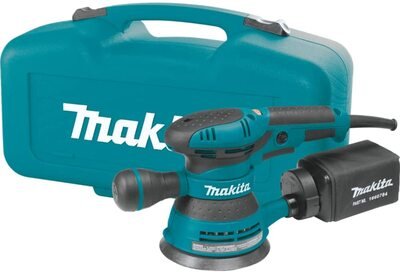 You will get this Makita sander to work at speeds from 4,000 to 12,000 OPM. The knob on this body adds a comfortable layout that keeps the sanding speed consistent and easy to follow.
The 1/8-inch random orbit action offers a better position for sanding that provides a swirl-free finish for your use. The simplicity involved here ensures that the design is not too hard to incorporate or use.
The rubberized palm grip and handle give you a better grip all the way through. This also works with a 3.0 AMP motor that is insulated well. The added protection around the motor ensures the unit will stay strong and will not potentially shake far too much or otherwise be a challenge to work with.
A two-finger trigger switch is also added to help you sand items in a few moments. You can try this option in cases where you need a model that is basic for most uses.
Pros
The grip has enough indentations for simple use
The oversized ball bearings add a good body
The openings around the body add a nice tone
Cons
The cord is too short
May overheat from extended use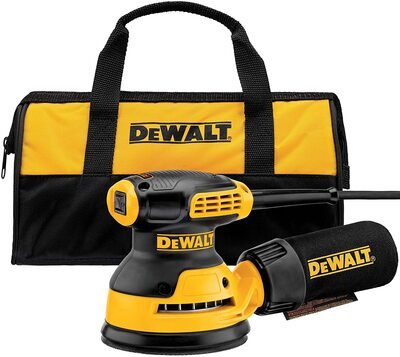 The short height of the DeWalt DWE6421K makes it a useful option for finding a sander that is easy to apply and use. The model features a compact body that is easy to manage and offers a smooth gripping surface for quick access and operation.
The counterweight design on the sander allows the unit to move evenly and smoothly along a surface.
The dust port is also highly compatible and works in a few moments. You can add this onto the DeWalt sander and replace it quickly depending on how well it works. The design adds a simple approach to cleaning that only takes a few moments to handle.
Pros
Simple movement position
The 5-inch surface adds a comfortable space for treating a space
Easy to extract dust
Cons
Not many speed adjustment options
Not many sanding pads outside of what DeWalt offers can work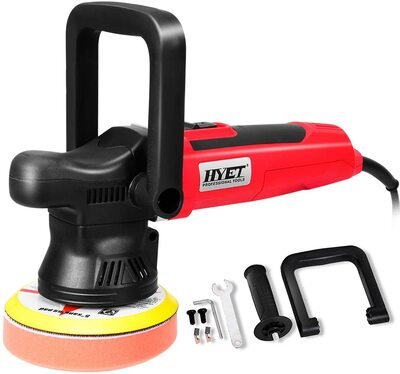 This Goplus model works for lighter surfaces as it works at speeds from 2000 to 6400 rpm. You can adjust the speed by using the convenient knob control for your use. The knob provides you with a simple interface for handling the unit. The sanding surface has a five or six-inch body that is perfect for not only sanding materials but also for polishing or buffing any sensitive spaces.
The D-type handle adds a good interface for your use. The handle lets you grip onto the body of the sander to keep a good handle that is not hard to follow. This is vital for when you have a larger surface to work with but you need to work with less pressure.
Pros
Easy to add sanding materials onto its body
The handle can stick out quickly for easy control and movement
Offers a sturdy yet lightweight body
Cons
Not for heavy-duty use
Requires a bit of training to produce the right speed
Does not have any noticeable dust collectors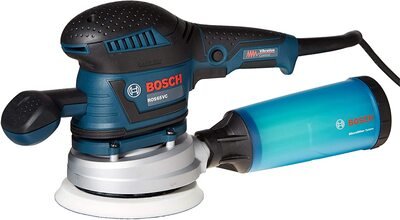 The six-inch surface on this Bosch model is a little larger than what you might find on other units. The helpful surface adds a convenient body for more large surfaces. The unit even works with a quick to add and remove dust collector. The design gives you extra help for managing your space while also reducing the risk of swirl marks around a surface.
The variable speed control unit lets you control the speed of this from 5,500 to 12,000 opm. The design does not produce lots of vibrations either, thus making this a more suitable model for many of the controls one has for handling content.
The sturdy hooks on the sander also ensure that it will keep a sanding disk intact. The unit has a six-inch body, but it is also compatible with smaller five-inch sanding pads.
Pros
Easy to add and remove sanding pads
A simple lightweight body is a little over five pounds
The soft grip gives you a better sense of control
Cons
Not many options for speed control
Requires careful handling even at the slowest speed
7. Skil 7492-02 – A Helpful Brake Works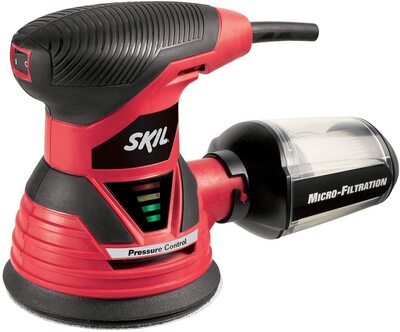 A pad brake is included on this Skil sander. The design provides you with extra help for handling the sanding functions. The brake will stop the regularly fast sander on a dime so it will not produce more stress onto a surface than what is needed.
The dust collector has a clear body. This gives you a simple idea of what is inside the collector, thus improving upon how well you can get a space cleared out and ready for use.
The lights on the side also let you know how intense the speed control is. You just use the small knob on the body to control the speed and then you are on your way towards having an extra bit of control over space.
Pros
Weighs a little under five pounds
The filtration feature inside the collector ensures more items are taken in
The pad brake prevents gouging on the surface
Cons
The power cord is too short
May overheat on occasion
Buying Guide For a Random Orbital Sander
Things to Consider When a Random Orbital Sander
Disc Size
Be aware of how large the discs on an orbital sander are laid out. The discs should be large enough to cover most of the functions you need to work with.
Dust Collection
A dust collector can be used on your sander. This collector takes in the dust and other items that are produced off of the sander. You can use this to quickly collect anything that might fly around, although it is important to ensure the bottom area has enough ports for taking in the dust that comes about.
Sandpaper Support
A sander needs to be capable of supporting an assorted variety of sandpaper materials. These include many sandpaper items that come in different grains. The grain value is reflective of how dense the compound is; you need something that is detailed enough to handle most of the sanding functions you wish to work with for the best possible results.
Why Buy a Random Orbital Sander?
To remove paint. A random orbital sander makes it easy for you to clean paint off of wood, metal, and plastic surfaces alike.
To access tough spaces. It is hard to manually sand down some tight corners on a piece of furniture or other large items. A random orbital sander helps you get through even the hardest-to-reach spaces.
To speed up the process. It can take a while to sand things on your own, but an orbital sander will help you to get a task completed in as little time as possible.
For consistent results. You can get the sander to work over many large surfaces in a matter of moments. The results you will get off of one of these sanders will be consistent and can provide you with a good surface for handling more needs.
FAQs
What safety equipment is needed for use on one of these sanders?
You should use safety goggles to keep your eyes protected. A mouth guard may also help for cases where the materials you sand off might fly around quickly.
Does the sander have to be oiled?
Some sander models have to be oiled regularly to keep their parts moving. Check the instructions for your sander to see if you need to get your model oiled as necessary.
Conclusion
The top option for you to check out when finding the best orbital sander is the Bosch 120-V 6-Inch Sander. This is a more versatile choice for your use in that it offers a convenient approach for handling more surfaces. The six-inch surface is useful, but the ability to use a five-inch surface instead is a huge plus. The design of the surface adds a better approach for sanding more items. The convenient dust collector and added variable speed control feature make this an indispensable choice.
But no matter what you choose, you can rest assured that your random orbital sander will help you with controlling even the hardest surfaces in your workshop. Take a look at how well each option out there works and figure out which choice is right for you. You might find something that is suitable for most of the demands you have.
You must look at how well a sander can collect dust and how versatile it may be. Anything that offers more control functions is also worthwhile. You'll find plenty of choices out there when finding a sander, including many from some of the world's most prominent power tool brands that you may know of.