Sawgrass is a popular company in the world of high-end printing. With Sawgrass, you can transfer images onto various materials. This is thanks to a process known as sublimation printing.
But what is the best sublimation printer to use when finding something that fits your work needs? This guide will help you identify the top sublimation printer option that is suitable for the distinct work needs you may have. Each printer can help you transfer high-quality images onto anything you want to work with.
An In-Depth Analysis of the 3 Best Sawgrass Sublimation Printers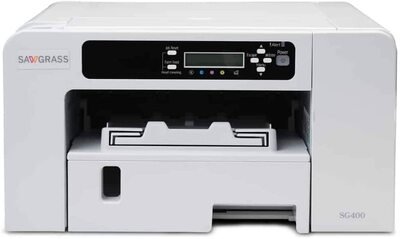 Your first option for a Sawgrass printer is the Virtuoso SG400. The printer operates as a desktop solution for printing needs and is specifically made with sublimation processes in mind.
You can use the SG400 to produce up to 240 prints in an hour. The design works faster than what many other companies offer, and especially operates about twice as fast as the sublimation printers that Ricoh makes.
You can create images of up to 1200×1200 dots per inch or dpi. The design works with colors and black inks alike. You can use single-use SubliJet inks for your printing tasks to produce quality images without risking any outside contaminants from getting into the unit. A self-cleaning system also helps you to keep the printing head under control without using more ink than necessary.
You can add a bypass tray to the printer if desired. The tray lets you print media up to 51 inches in length. The basic design uses an 8.5×14 maximum size.
Pros
Fast response
Does not radiate heat far from the main body while printing
The self-cleaning system works quietly
Cons
Does not work with extended cartridges
Does not work well with older graphic applications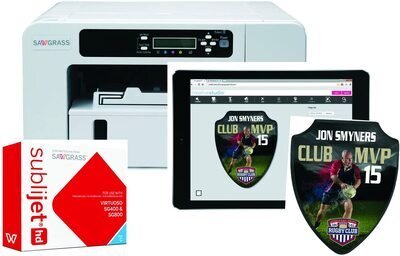 The Virtuoso SG800 is an upgrade over the SG400 in that the SG800 can handle larger amounts of content. The printer can work with extended fill ink cartridges that will last much longer than standard ones. You can save money on printing, what with you not having to switch out your printer ink as often as you might expect.
The larger print media tray provides help for handling greater materials that you want to incorporate into the printing process. You can use the tray for content up to 13×19 in size. A 13×51 bypass tray may also be incorporated, although that would have to be added separately.
The ink lines and printer head are perfectly sealed. These will not cause outside air or other potential contaminants to possibly enter the printer when in use. The risk of your printer experiencing damage will be minimal thanks to the quality of the unit at hand.
You also have the option to use a bulk paper tray that can handle 250 sheets at a time. The bulk tray is ideal for when you want to print detailed photos.
Pros
Provides a faster printing approach
Can work with larger polyester sheets
Easy to adjust the paper tray to handle different sizes
Cons
Features too small of a control screen
Takes up lots of physical space
3.

Virtuoso VJ628 Sublijet

– Helpful For Bright and Detailed Colors
You'll enjoy how you will get multiple colors ready on the Virtuoso VJ628 Sublijet printer. The unit features an eight-color solution that uses more cartridges and mixes to create the most vibrant and detailed colors around. The layout ensures you'll have more control over the quality of your images.
You can work with four different color ink setups for your use. These include the Dual CYMK layout for producing detailed colors. The Flex option also uses orange and blue tones to create a better array of colors while also supporting some of the brightest hues that you can incorporate into your work.
The printer is ideal for promotional products. You can use this for high-volume printing projects as well, not to mention for when you need to print out large advertising fabrics. The thorough work involved provides a thorough approach to handling extended printing projects that work in many forms.
Banding issues will not be a problem in the printing process either. With this printer, you can handle a detailed printer that works without any sharp edges in the work in any situation. The design provides a careful approach that handles work well.
The small footprint on this printer is a positive as well. The unique requires about seven square feet of space for regular use.
Pros
The reel is integrated into the body to keep from taking up space
You can use a built-in stand if necessary
Creates a detailed printing every time
Cons
Very heavy in weight
Takes an extra bit of time to start up
Buying Guide for Sawgrass Sublimation Printers
What Is Sublimation Printing?
To understand what makes Sawgrass sublimation printers useful, it helps to recognize what a sublimation printer can do in general. The printer will help to produce a high-quality image on a sheet. The sheet can entail various fabrics or surfaces.
Sublimation operates on a chemical process. In this, a solid becomes a gas without entering a liquid stage. While an average printing process converts a solid turning to water before entering a gaseous state, the sublimation printing process goes directly to gas.
The process uses a few steps: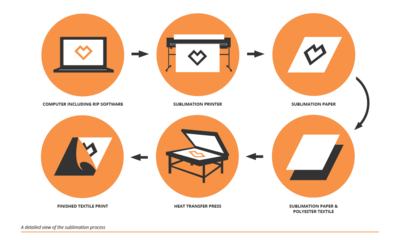 1. Sublimation starts with an appropriate sublimation paper or fabric being added in a heat press.
2. A specialty ink designed for the sublimation process should be secured inside the printer.
3. The printer will identify the image that must be reproduced.
4. The heat press warms the paper or other fabric to 350 to 400 degrees Fahrenheit. At this point, the ink should go from a solid state to a gas state.
5. After the ink gets into a gas state, it will enter the fibers of the fabric material. The heat releases the gas and opens the pores of the fabric that you are transferring the image to.
6. After the heat is removed, the ink will solidify and permanently be affixed to the fabric.
7. The fabric pores will start to close up after the heat is gone. The ink will also go to its solid state without entering a liquid state.
How Is This Different From a Heat Transfer Printer?
A sublimation printer is different in that the ink becomes part of the fabric after the printing is done. A heat transfer printer causes an image to go on top of the fabric. The layer from the heat transfer can crack and fade over time. The sublimation printer ensures the content will go directly into the fabric and will stay there without wearing out. This produces an image that lasts longer and produces a better appearance all the way through.
What Materials Can a Sublimation Printer Support?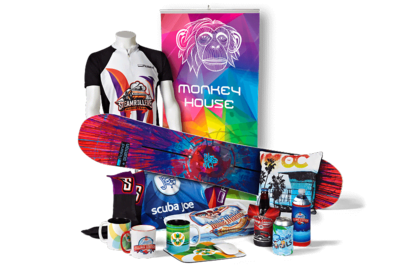 You can use a sublimation printer from Sawgrass to print items on various materials, including:
Polyester

Aluminum

Tile surfaces

Acrylic compounds

Reinforced fiberglass

Glass
The key is to ensure a polymer coating is present on whatever you plan on using.
Choosing a Sawgrass Sublimation Printer
You have many options to consider when finding a Sawgrass sublimation printer. There are a few things to note when looking for a quality printer that fits your needs:
Be aware of how well the printer can handle most tasks. This includes looking at how the printer can manage larger bits of media that you want to print on.

Note the quality of the ink when making the printer work. The ink spaces for use will vary by model.

See how the resolution works for your printing needs. The resolution will be measured based on dots per inch.

The physical layout of the printer should also be examined. This includes noting how well the printer can fit on a desk or other surface.
The Advantages of a Sawgrass Sublimation Printer
You'll come across many great positives surrounding a Sawgrass sublimation printer:
Sawgrass makes various quality sublimation inks that can work for your needs.  These include the Sublijet and Chromablast inks. The ink units are ideal for many printing projects and will produce the most accurate colors when getting a printout ready.

You can use many forms of transfer media on a Sawgrass sublimation printer. These include transfer paper materials.

The Virtuoso Print Manager software program makes it easy for you to control your printing process and adjust the content you are working within real-time.
Important Points of Note
A few additional things should be seen when getting a sublimation printer ready:
Make sure you use a polyester material or something that has a polymer coating when using a sublimation printer.

Sublimation works best on lighter fabrics. These include white or off-white items.

Be aware of how large your print media is. You might not be able to get some larger bits of content in a printer.

Look at how well a printer can handle various graphic applications. Some printers work with specific versions of the Adobe Photoshop, CorelDraw, and CreativeStudio programs. The CreativeStudio program is the best choice, what with it being made by Sawgrass, but you should note what makes any program work.
Editor's Pick
The Sawgrass Virtuoso SG800 is the best option for you to look at. This model provides a quality arrangement that can handle larger materials at a time. The powerful body provides a good layout that works in moments for producing larger bits of content. The strong resolution level on the printer adds to the quality of anything you wish to produce.
Conclusion
The Sawgrass sublimation printers that you can find are worth noting. You'll love how each of the models that Sawgrass has to offer can work in many forms for your printing needs. The quality of your sublimation prints will also last for years to come since this works much better than traditional heat transfer methods. The functionality of a printer will add to the quality of the setup to help you make more out of your printing needs.