As necessary as it can be to have a quality chainsaw for many of your yard work and maintenance tasks, it is even more important for you to see how sharp your chainsaw is. You need to keep this material sharp to ensure the things you are cutting are cleared out evenly and carefully. Also, a chainsaw needs to stay sharp to ensure it will not wear out prematurely.
You will need an effective chainsaw sharpener to help you with improving upon how well your chainsaw works. The great news is that there are plenty of options for you to look for. These choices for chainsaw sharpeners all come with various useful features that improve upon how well you can get your chainsaw ready for use in any specific situation.
You must also see that any chainsaw sharpener you get for your use is a model that is effective enough for most of your uses. A sharpener that can handle the right process for keeping your chainsaw strong is always worthwhile. But you must also look at how well the sharpener you use is made to be ready for your use.
Best Chainsaw Sharpener Reviews
1.

Oregon 25894

– Quick to Use and Align 

Start your search for a chainsaw sharpener with this model from Oregon. This is a 5/32-inch unit that offers a round file and a wooden handle to help you keep a proper grip.
The file guide frame offers lines to help you with aligning the sharpener with the chainsaw bit. This Oregon chainsaw sharpener produces a better sense of control for handling the chainsaw and for allowing the unit to stay sturdy.
The body is also very hard and strong to ensure the surface will stay intact for a while. This keeps the sharpener working accordingly and without effort. You can make this model work for you in moments.
Pros
Easy to get the sharpener assembled properly
The convenient layout helps you to align the sharpener accordingly
The size works for many chainsaw models
Cons
The wood handle doesn't have much of a curve on it
Takes a while to sharpen with this
2.

Oregon 410-120

– Versatile For Multiple Types of Chainsaws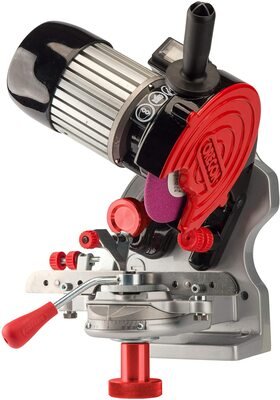 In addition to handheld models, Oregon also makes a mounted model. The 410-120 can be mounted onto a wall or bench. This uses three wheels for ¼ and 3/8-inch surfaces among many others. You can switch out wheels quickly to help you handle your specific chainsaw. In fact, this could work well if you have several chainsaws in your possession that need to be treated accordingly.
Light is included on the sharpener to help you see the features on the chainsaw well enough. You will know what specific surfaces on your chainsaw have to be treated right thanks to this helpful feature.
Also, the one-way motor rotation feature ensures that the motor will not move around too much and cause any possible damage. The one-way position ensures the setup will be safe to use, thus keeping possible damages from occurring while using the model.
Pros
Easy to switch out materials for sharpening purposes
The convenient layout offers a better approach
The nose system keeps the chainsaw in its place while being sharpened
Cons
Takes a bit to mount onto a surface
It may be too noisy for some users
3.

Granberg G-106B

– Get It Mounted Onto a Chainsaw Quick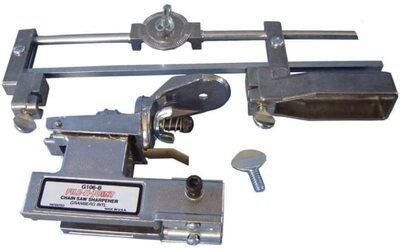 The design of the Granberg G-106B is unique in that while it can quickly mount onto any surface, this is a universal model. This can work for any saw with any kind of file size. This adds more control over how well materials can be sharpened as needed, thus being vital for anyone's sharpening demands.
The cast aluminum and zinc-plated body add a good touch for one's use. This ensures that the sharpener will keep on working in a matter of moments without struggles.
Swivel guide markings are also included in this Granberg unit. The markings help the user to configure the chainsaw and to make it useful in a vast variety of situations. This should produce a more effective approach to managing one's content the right way and in just moments.
Pros
Easy to add your saw onto the surface
Works in minutes for most chainsaws
Simple guides for convenient use
Cons
The lightweight body can shift if not handled carefully
It May does not work for some larger chainsaw models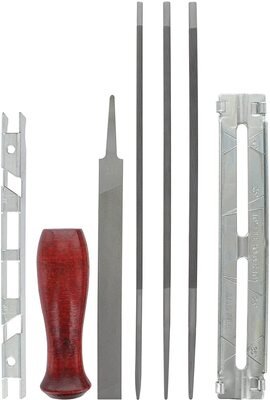 This next model is an attractive sharpening kit that uses a variety of files for many types of chainsaws. This works with 5/32, 3/16, and 7/32-inch files. You have round and flat files here alongside a depth gauge and a filing guide. It all works with a solid wood handle that makes it easier for you to keep a grip on the file.
This even comes with a protective carrying case for securing all of your items. This is a simple and easy-to-use model that is not too hard to utilize. You can add one of the pieces on this in moments to help you keep on using this model. This is a simple unit that is not too hard to work with.
Pros
Easy to add and remove materials from the handle
The solid handle is very sturdy
The carrying case keeps all the features inside protected
Cons
May be tough to review the guide lines
Does not work for larger models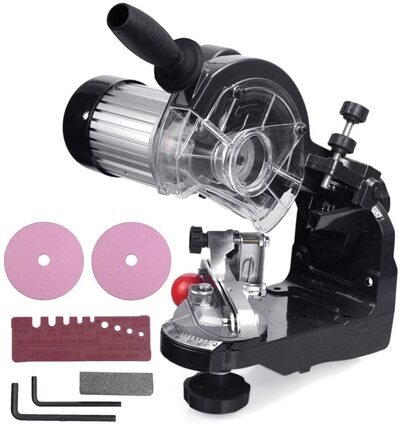 This next choice uses two separate grinding wheels. These are 1/8 and 3/16-inch units. You can adjust the grinding angle from 0 to 30 degrees and then move the motor from 0 to 70 degrees. You can use this well for most major chainsaw models, thus making this one of the more versatile choices you can work with when getting a saw ready for your use.
The grinding wheels are 5.5 inches in size each, thus adding a good approach for handling the unit. This also adds a better surface for handling your grinding needs. A work light is also added here for making things more accurate. You can also benefit from the reinforced hinges on this cast aluminum surface that adds a sturdy design for helping you to keep this active and ready.
Pros
Simple installation and mounting process
Adds a strong design that is easy to use
The light is bright enough for helping you see the chainsaw teeth
Cons
Not too versatile
Can vibrate quite a bit

Stihl is a noteworthy name in the field of home hardware products. This model from Stihl is a basic handheld option that uses a 3/8-inch size. This helps you to sharpen the teeth on the saw and to manage the depth gauge at the same time. This adds a better approach to helping you get the chainsaw sharpened accordingly thus being simple for use.
The sharpener is also about three-quarters of a pound in weight, thus helping you get a better grip on the chainsaw without being at risk of slipping off or wearing out fast. The sturdy handles also ensure that you will keep a good grip on this in a matter of moments. You can use this choice if you want a model that is a little more basic without lots of frills involved.
Pros
Easy to get a grip onto
Will stay sharp for a while
Simple interface
Cons
No noticeable guide lines
Hard to control on larger models
This electric model is one that can go on top of a bench, although it is something you would have to handle on your own without mounting it onto anything. But the design is ergonomic enough to create a better approach for handling the unit.
The 8.5 amp motor works at 4200 rpm when no load is added. This also uses chain rotation rollers to create a better setup all around. The safety guard also adds a good style for grinding that works in a few moments.
The 1/8-inch grinding wheel is a little more than four inches in diameter. The large surface on the wheel ensures the model adds a better approach for handling the grinding process.
Pros
Great safety guard with a large body
Easy to trigger the motor with a basic handle
The rotation rollers help you get the chainsaw teeth aligned well
Cons
Not too versatile over what chainsaws it can handle
Can vibrate quickly if not handled accordingly
8.

Pferd 17301

– A Simple Layout With a Convenient Guide

The Pferd 17301 is a 3/16-inch handheld mode with a filing guide. This uses a solid steel sharpening surface with an added series of plastic handles on the end. The handles have proper guides to help you notice where you should align the model at when getting the sharpener ready for use.
The simple layout of this sharpener is nothing too special, although it is a little less than a pound in weight. This should be enough to provide you with a sturdy body for handling all your sharpening needs in moments, thus making it a useful choice.
The body has a series of simple metal materials that are easy to use for many intentions that people have.
Pros
The easy design gives you more control over the sharpening experience
The lightweight design offers a simple approach to sharpening
Easy to review the guidelines on the sides
Cons
Only comes in a 3/16-inch size
Takes longer to sharpen with this material than with another product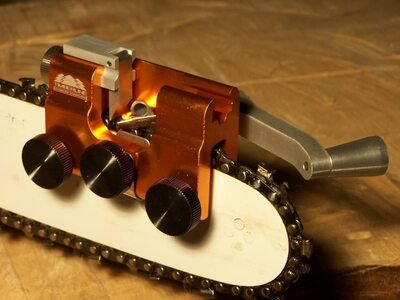 This Timberline intriguing model is a mounting option that offers a 7/32-inch carbide cutter and can work on a 3/8-inch pitch chain. The unit will mount itself onto the chainsaw blade and add a comfortable surface for sharpening. You can use the carefully placed handle on the sharpener to adjust how well this model can handle the process of getting the blade sturdy and ready for use.
The machined aluminum adds a nice touch to your use. This body adds a convenient layout that is not hard to use and should give you more control over your sharpening efforts. With this, each tooth on the chainsaw is sharpened precisely and professionally. The portable design of this model adds a nice touch to your use.
Pros
Easy to apply onto most chainsaws
Adds a sturdy handle for moving the unit along the surface
Clings on well and will not slip off while in use
Cons
Takes a bit of time to use
The chainsaw needs to be on a level surface for this to work out well enough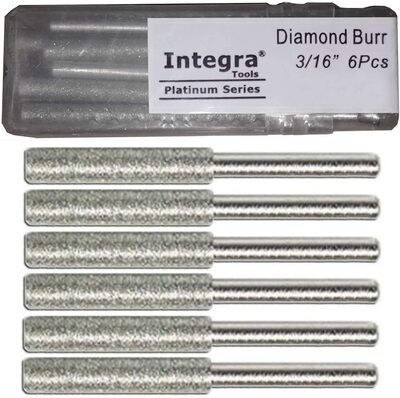 Those who want to go back to basics will find that this standard sharpener is a good choice to have. This Integra Tools model offers a 3/16-inch body on each piece that you use. This comes with a standard design that does not have many features added to it, but it does have a diamond surface.
Diamond is particularly useful for sharpening in that a diamond surface will last longer and not be at risk of coming across lots of snags while in use. This adds a better approach to sharpening that can work in a few moments. Best of all, the results can last for a while thanks to the strong design offered by the sharpener for keeping the material comfortable and easy to use.
Pros
Easy to apply onto most chainsaws
The sharpener will last for a while
Does not weaken quickly
Cons
Takes a while to use
Not as easy to get a grip onto
Nunc a libero at sapien placerat tristique
What to Consider When Buying a Chainsaw Sharpener?
File Size
Be aware of how large the file on your chainsaw sharpener is so you can get it to work on your specific chainsaw. You can find chains in 3/16, 5/32, or 7/32 of an inch in many cases.
A file that is too small will fail to sharpen the chain teeth. A large model might cause those teeth to become flat.
Handle
The handle that comes with your chainsaw sharpener is important to see. You need to make sure the sharpener adds a good control that adds more power while keeping the chainsaw in check.
Sharpening Surface
Steel is often used on many sharpener models, although you may also find diamond materials to be useful for your sharpening needs. But whatever it is you find, you have to make sure whatever you are using is easy to grip onto and adds a good surface for handling things well.
Types of Chainsaw Sharpeners
Handheld
The handheld chainsaw sharpener is the most common type of model you can find. This sharpener style is a round file that you would run over the tips on the chain. This is a useful process for precise sharpening, although it does require a bit of effort.
Mounted
A mounted chainsaw sharpener is a model that secures the chainsaw onto a flat surface. This may be added to the side of a table or bench. Knobs can be found on the mounted machine to allow the file to sharpen well. This can also include different plates that you may use when sharpening different types of chainsaws based on their sizes. You can use this well for managing many sharpening needs, although you would have to switch between different sharpening wheels or materials to make this work accordingly.
Electric
An electric model is designed to where you hold onto the unit and allow the material to start working quickly in moments. This helps to control the saw blades and to help the material become stronger. This works well and in little time, although plenty of effort is required to ensure the unit is.
What Chainsaw Sharpener Type Is Best For You?
You might benefit more from a handheld sharpener if you are trying to be more precise in how well you wish to sharpen the chainsaw blade. Meanwhile, a mounted model may be best if you have a very large chainsaw to work with or if you have several models and you need something that can handle multiple sizes. You can also use an electric unit if you regularly use a chainsaw and you have a frequent need to get the saw sharpened accordingly to your needs.
How to Sharpen Your Chainsaw?
1. Check the size of your chainsaw sharpener file at the start. This is to see that the sharpener fits up well with your chainsaw model.
2. Look for the unique link on the chainsaw. This is a spot that does not have teeth and is often used to connect the entire chainsaw together.
3. Position the file on the sharpener at an angle at that spot.
4. Start applying pressure onto each tooth on the chainsaw. Keep the pressure even.
5. Move from the inside angle to the outside part of the chainsaw. Sharpen on the forward stroke and then lift the file off on the backstroke.
6. Be sure the edges of the chainsaw are bright and easily visible. This is a sign that you will have properly sharpened the chainsaw.
Be sure to repeat this process every few weeks. You should also do this if your chainsaw has ever been in contact with metal, dirt, or ice among other heavy solids.
Safety Tips For Sharpening Your Saw
Keep the chainsaw unplugged or remove any starter materials on the saw before you can start sharpening it. This is to keep the saw from starting up without warning.

Always wear protective gloves as these might help you to keep a better grip on the sharpener.

Wear protective eyewear to keep any possible sparks from getting into your eyes.
Our Verdict
The options you have for a great chainsaw sharpener are diverse and deserve to be noticed. Be aware of your needs when getting a sharpener that you can trust and utilize well. Your chainsaw will last for years to come when you use the proper sharpener for keeping this important material sharpened well enough. After all, your chainsaw will not be all that effective if you do not keep it sharpened accordingly.
Knowing what to get out of a sharpener can be vital for your success when you are aiming to ensure your chainsaw will stay sturdy and can remain strong for any specific need you have for getting it to work for as long as possible.