An electric lawn mower can be a very useful tool for your home maintenance needs. Such a mower will help you with getting the lawn cut without producing emissions. You won't have to worry about oil, gas, and other fluids that might be difficult to maintain or handle either.
But the battery on a lawnmower can be a challenge to work with. A battery might not last as long as you wish it could. Some batteries may take forever to charge up, and they might die out after a while. The good news is that you can take advantage of a quality corded electric mower.
This guide will highlight the seven best corded electric lawn mower models on the market. These are mowers that come with multiple useful features while providing you with enough continuous power for your entire lawn.
Top 3 Best Corded Electric Lawn mowers in 2023
| | | | |
| --- | --- | --- | --- |
| Product | | | |
| Brand | Greenworks | Sun Joe | American Lawn Mower Company |
| Dimensions | 56.25 x 21.1 x 43.4 inches | 48.4 x 40.6 x 40.6 inches | 52.09 x 14.13 x 38.03 inches |
| Item Weight | 51.4 pounds | 30 pounds | 20.3 pounds |
| Cutting Width | 21 Inches | 14 Inches | 14 Inches |
| Special Features | Suitable For Three Functions | Works With Many Heights | Get It Working Faster |
7 Best Corded Electric Lawn mowers Models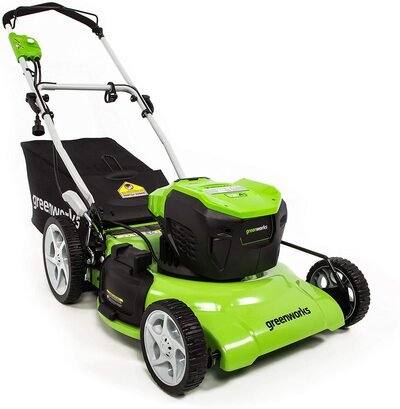 Many of the corded electric mowers you can find are made with different mechanisms for operation. The Greenworks 21-inch model uses a three-in-one set up for operation. With this, you can collect grass clippings from the rear through a bag. You can also use the side discharge option. A third choice works with a mulching setup. The mower design provides you with the option to adjust the mower's setup based on what you prefer working with.
The wide 21-inch body of the mower allows you to get more grass cut at a time without hassle. The wheels are also different in size to make it easier for you to keep the mower active without struggling to move along.
The 13-amp electric motor makes it easy for you to keep the mower working fast. The motor design makes it easier for you to handle different functions at a time. The added support from the mower is especially useful for those aiming to get their lawns cut if the grass is a little thick. This can also work well with many heights as necessary.
Pros
Easy to switch between cutting modes
You can lower and raise the mower in moments
The wheels are easy to control
Cons
The mulching process is slow
The wheels don't have much of a shield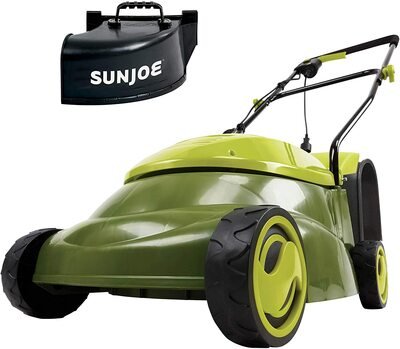 You can use this Sun Joe mower with one of three heights. You can adjust the height in a few seconds. The design produces a comfortable handle that works well. The 13-amp motor also provides a good body that will keep the mower running fast and without problems.
The 14-inch deck is small enough to let you focus on smaller surfaces. But the deck is also useful for when you're aiming to go through a small lawn.
The mower works as a bagging model. The rear chute will move grass into the bag in moments. The best part of the bag is that it features a solid body that will not tear up. The bag can also be added and removed in a few seconds, which makes it easier for you to get the grass handled well. The 10.6-gallon bag provides enough room for many of your needs as well.
The wide chute also ensures it will not be tough for your mower to take in the grass. The chute will confirm that the grass clippings you take in or anything else isn't going to clog up your mower.
Pros
Does not weigh much
Easy to link the cord to the mower body
You can steer the mower in moments
Cons
It May not work well on some thicker surfaces
Does not move too fast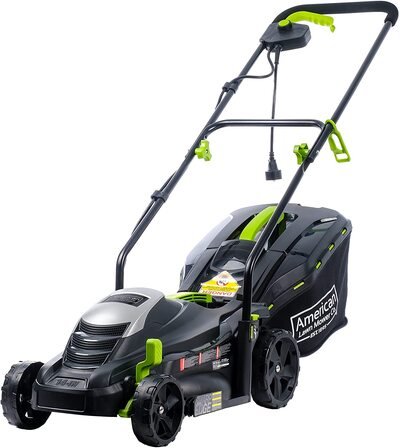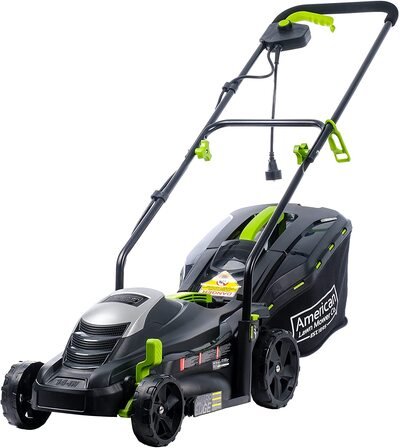 The need to adjust the height of your mower should be noted well. The American Lawn Mower Company uses a lever on the front wheels to help you adjust the height in five ways from 1 to 2.5 inches. The single lever makes it easier for you to adjust the mower.
The two-in-one arrangement on this mower works for both mulching and for rear bagging. The 16-gallon bag included in the bag lets you go through more spots around your yard before you have to empty it.
The 11-amp motor provides a powerful body for going through. The 14-inch cutting width also lets you go through more places in a few moments. The mower is ideal for people who are trying to get more cutting tasks done in as little time as possible without any stress. The lightweight body of the mower also makes it so you won't have a hard time going through many places when working.
Pros
The blade provides a sturdy body
The wheels can grip the ground in moments
The adjustment knobs on the handles help you adjust the position of the mower in moments
Cons
Takes a bit of time for you to assemble the mower
There is only a single blade on the mower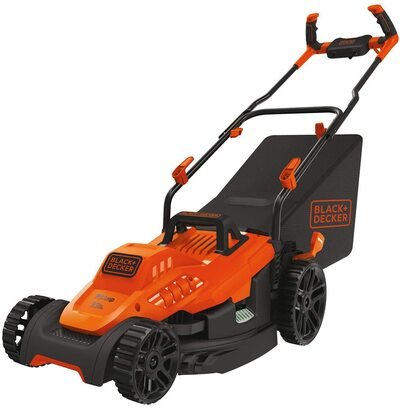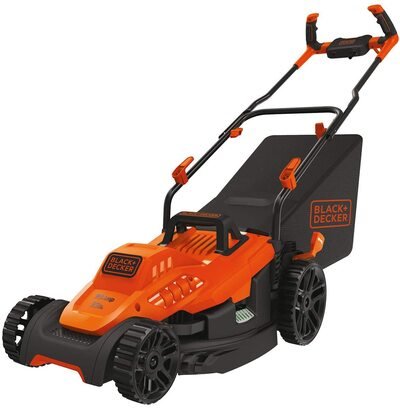 You won't have to worry about lots of vibrations or other motions when you use this Black and Decker mower. This 10-amp mower uses a 15-inch body that goes through many grass blades. The easy adjustment lever lets you move the mower from 1 to 3 inches in height. You have six height options to work with, so it should be easy for you to control the cutting effort.
The rugged wheels allow you to get along many rough or worn surfaces. The comfort grip handle also lets you handle the mower well. The padded surface will absorb the various motions that you go through without worrying about lots of shifting or other concerns. The gripping features on the sides are also useful for helping you to keep a good hold on the mower without anything slipping off.
A winged blade design is used on the mower as well. The blade will help you with collecting more grass at a time. The push-button start feature also helps you to get more grass cut at a time without wasting lots of effort in the process.
Pros
The grips work well on both hands
You can fold the handle when you're done using the mower for convenient storage
The mower does not weigh far too much
Cons
The grass can get clogged around the chute if not handled well
The front wheels can become improperly aligned if you are not careful enough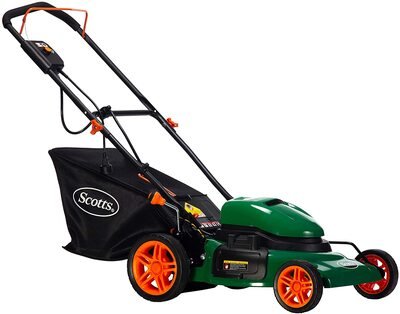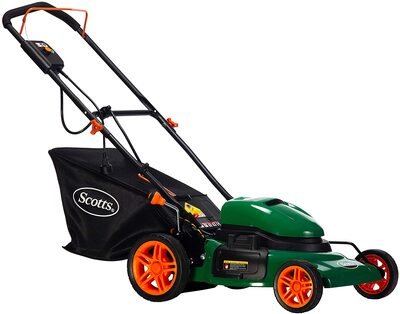 You might have a larger lawn that needs an extra bit of help. Scotts makes this extra-wide 20-inch mower that helps you with many of your mowing needs. The sturdy steel blade links to a 12-amp motor for providing you with an efficient amount of power. Scotts promotes this mower as being as powerful as what you might get out of a larger gas-powered model.
This is a combination model that works for mulching, side discharges, and bag collection. The bag that Scotts has provided for this mower has a 16-gallon capacity, which should be more than enough for when you need to collect plenty of things at a time.
The front guard features a steel body with a foam grip. You can use the grip to quickly keep a good hold on the mower, thus keeping you from being bothered by lots of vibrations and other shaking issues.
The one-point adjustment lever also helps you with moving the mower up and down. You can move the mower from 1.5 to 4 inches in height depending on what you prefer to use.
Pros
You can fold the body of the mower down in a few moments
The cord port is very easy to reach
The grass catcher port does not clog up easily
Cons
Makes a little more noise than other corded mowers
A little heavier than other models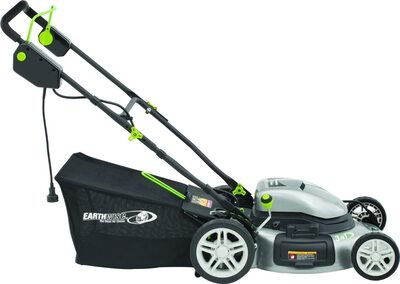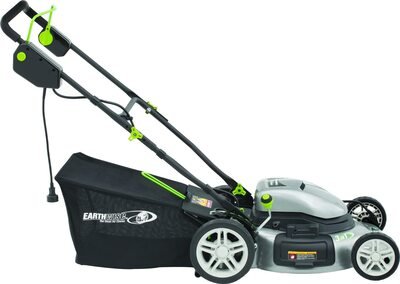 Not all corded electric lawn mowers have to feature massive bodies. This Earthwise model features a 20-inch deck while still offering a powerful body that only takes a few moments to complete.
The 12-amp mower goes through many grass spaces in moments. The combination design on the mower is also helpful, as it makes it easier for the mower to collect grass and move it through in many ways.
The slim body features a handle that you can fold for when you need to store the mower for later use. The cord retention feature is also perfect for how it keeps the cord in its place while in use. The V handle also gives you control for keeping the mower functioning well. A self-propelling lever can also be found on the front to help you move the mower well through anything you need help with cutting.
The fast response time on the mower is one of the most popular features to see on this unit. The model answers to motions in a few seconds, thus helping you to keep the mower going through even the most difficult spaces around your yard. The support is very useful for all the work you want to put in.
Pros
The mower does not struggle to move through most surfaces
Easy to adjust the cord when in use
The cord connection feature ensures your extension link will stay in its place
Cons
Difficult to clean off the grass blade
The mower may struggle with thicker grass
Your last option to find for a mower is this Greenworks model that is useful for smaller yards. The small mower uses a 16-inch deck that is ideal for narrow parts of a yard or for if you don't have much of a yard to work with. The small design comes with wheels that can grip on the surface well enough and will not slip off when used well. You can use this with most extension cords without being too hard to support.
The two-in-one design also works for mulching and rear bagging needs. The 10-amp power will also start in moments after you turn the mower on. The five height adjustments that you can use on this mower will also help you with going forward faster without struggling. You can go from 5/8 to 2-5/8 inches in height with the push of a lever.
Pros
Light in weight
Produces less noise
The grass collection bag is thick enough to keep from being punctured by possible branches
Cons
Difficult to assemble
It may be difficult for the handle to bend down for regular storage needs
Buying Guide for a Corded Electric Lawn Mower
How a Corded Electric Lawn Mower Works?
A corded electric mower works with a simple layout. You will plug the mower into an electric outlet with an extension cord being used to help you keep your plug intact.
The electric mower will work in that you'll keep the mower running continuously. You only have to plug in the mower and start mowing. This is provided that the extension cord is handled well and that it is also long enough to go around your entire yard.
The most noteworthy part of a corded mower is that it will be easier for you to maintain than other models. You would have to check on the mowing blade and clean and align the cutting implement, but other than that, it should be easy for you to handle your mowing effort. You will not have to change any sparkplugs or fuel filters. There's no need to add oil or gas to the mower either.
An electric mower will not produce as much noise as a traditional gas-powered model. Also, the mower may cost less money to operate over time than a gas-powered mower thanks to how well the model works.
However, you would have to watch for how you're going to adjust the cord for your mower. This includes being able to handle the cord with regard to the size of your lawn. You must also be cautious when trying to mow larger bits of grass. Some models might not be able to handle thicker grass as well. You'll need to check on the specifics surrounding the particular mower you want to work with.
A Critical Safety Note
Since your mower is powered by electricity, you need to ensure that you do not mow the lawn when it is wet out. You could be at risk of shock if you try using an electric mower when it is wet out.
What To Look For In Your Model
Multiple things should be noted when getting a corded electric mower:
1. Review the quality of the motor.
An electric motor should be strong enough to cut through thick grass. The number of amps will dictate the amount of power produced by the mower.
2. See how well the cutting deck is measured.
The cutting deck is a measure of how wide the mower is. This refers to how well the deck can go over the grass.
3. Look at the wheels and how well they can work.
The wheels on the mower should be large enough that they are easy to control. The back wheels should be larger in size than the front wheels, as the front ones will allow you to steer well.
4. Figure out how well you can adjust the mower based on the number of positions it can cut at.
The mower should be something that works for many heights. This is critical, as you might have to adjust the height of your mower depending on the season in question. Also, the type of grass you have could require a lower cutting height depending on what it is like.
5. The grass needs to be collected or dispensed accordingly after you go over it.
Your mower should be noted based on how well it can take in grass clippings. Some mowers can handle a side discharge feature. Others work as mulching mowers. You can also find some mowers that can support bags for rear grass collection purposes. Many models can also work with different types of grass features, but you would have to look well at how your mower is going to work with all that grass collection work in mind.
6. See how well the mower can start up.
A traditional push button should be incorporated into your mower. This should give you a quick start without having to pull any cords that might become difficult to work with after a while.
7. Review the physical body of the mower.
A corded electric mower can be around 30 to 60 pounds in weight. The weight should be enough to where you can push the mower without having much trouble in the process. But you should still look carefully at how well you can handle the mower and that it is not overly difficult for you to work with.
What Types of Lawn Mowers Come In Corded Electric Models?
You can find a corded electric lawn mower in one of many forms. Here's a look at what you can find when getting such a model ready:
1. Self-Propelled
This model is one that can move on its own after pressing an appropriate button.
2. Mulching
A mulching mower cuts the grass it goes over into a series of fine pieces. These pieces are then broken down by the soil.
3. Side-Discharge
A side-discharge model will emit the grass clippings from the side.
4. Bagging
A bagging mower uses a bag on the back end. The bag will take in the grass clippings.
How To Use Your Corded Electric Mower
1. Start by making sure the grass is dry.
2. Check the weather report to make sure there's no rain coming about in the forecast.
3. Plug the electric cord for your mower into an extension cord.
You'll need a heavy-duty model that is long enough to handle your lawn. Make sure the cord is a three-prong model and that it can flex well enough without losing its power source.
4. Bring the mower out to the spot on the lawn that you want to start mowing at.
The key is to find a place where you can mow while also mowing away from the cord. Be as close to where the cord is plugged as possible.
5.  Sling the cord over your shoulder.
It will be easier for you to adjust the cord while you are controlling the mower when it is on your shoulder. The cord should also be easy to handle based on the position.
6. Mow your lawn while moving gently from where the cord is plugged in.
7. You'll need to flip the cord every time you turn to go back.
Make sure the cord is on the opposite site of the discharge port provided the mower has one. The key is to keep the cord from getting in the way of anything you're trying to handle.
8. Move across the slope on your yard to make it easier for you to handle the cord. Avoid going up and down, as that might make it harder for you to keep the mower under control.
Editor's Pick
The best corded electric lawn mower in our review is the Greenworks 21-Inch 13 Amp Corded Electric Mower. The mower comes with a firm body that is easy to start up and use in many situations. The convenient layout is especially helpful for those who need extra help with covering more space. The powerful body of the mower ensures more things can be cut at a time. You can also use this to go through some of the most difficult bits of grass that you might need to go over.
Conclusion
Having a corded electric lawn mower is perfect for your lawn care needs. You can get your lawn cut with ease thanks to how well such a mower can work. But you will also have to watch for how well the mower operates and that you have a good idea of how you're going to go over various surfaces. The diverse array of corded mowers for your use will help you with getting anything you need to cut cared for the right way.
But whatever you choose, you need to look carefully at what you're coming across. You have many models to choose from for your mowing needs, so be sure you look well at how you're finding something that fits the unique needs you have for your lawn.