Pellet stoves are environmentally friendly, efficient, safe, and cheap. Most people tend to overlook this cost-effective means of keeping themselves warm once they are out shopping. The question is, why? Some think that it's too expensive to afford while others don't know what it is or its works.
Going for a pellet stove provides you with a modern and affordable means of heating your home. The stove is designed to burn pellets, which is easily accessible in farm supply stores, hardware stores, and open stores that sell heating products.
The pellets can heat your space within minutes; it is renovated to fit seamlessly with twenty-first-century technology; this means you can enjoy the warmness while saving the cost of electricity.
The space you intend to heat up is yet another important option to consider; how small or spacious the environment is will determine the size of the pellet you're to go for.
Top 3 Pellet Stoves in 2023
| | | | |
| --- | --- | --- | --- |
| Product | | | |
| Brand | Castle Pellet Stoves | Pelpro | US Stove Company |
| Dimensions | 24 x 19 x 37 inches | 22.8 x 24.5 x 36.5 inches | 15 x 52 x 24 inches |
| Item Weight | 186 pounds | 243 pounds | 131 pounds |
| Included Components | Stove | PP130-B Pellet Stove | Stove |
| Special Features | Works With a Convenient Remote | Works With Three Heat Settings | Works With Its Thermometer |
Best Pellet Stoves Reviews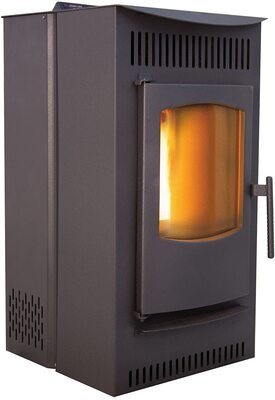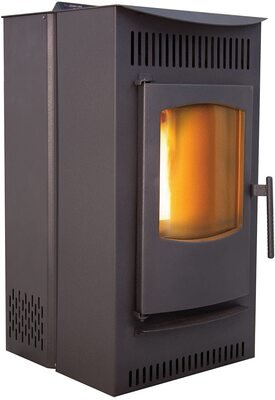 On cold nights, the castle serenity pellet stove is one way to heat your home in style. This efficient pellet stove is an attractive piece that would fit seamlessly with the most contemporary designs in your home.
Yes, it needs to be said twice; they are efficient. The product is second to none, so you don't need to add heaters to every room within your apartment.  With a 78 percent efficiency, it consumes less energy and generates more energy than most conventional heaters.
The size allows it to retain the heat within your apartment. The stove is designed with a blower, which serves the purpose of heat distribution, although this feature calls for constant maintenance to reduce the risk of fire outbreaks.
The Smart Controller feature is the best part of this pellet stove. The controller lets you adjust the settings by time. The calendar-based heating option enables you to control how well the furnace works at certain times, especially when your room's atmosphere gradually changes. The simplistic interior design makes it easy to clean and maintain.
Pros
Simple cleaning setup
The controller offers a simple design
Silent in operation
Cons
Weighs approximately 200 pounds
The intensity adjustment takes time.
Bottom line
The stove provides you with a homey and quaint atmosphere; it is listed as one of the best stoves on our list and has an overall rating of 9.0. You can be sure of an efficient and cleaner approach to heating your entire zone.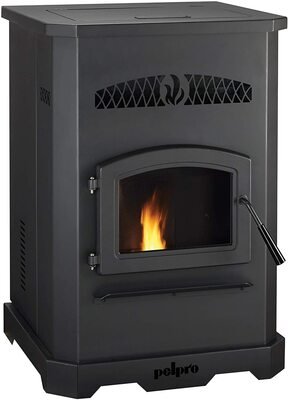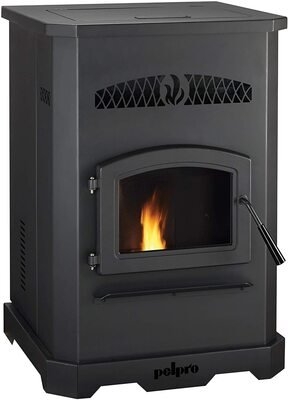 Here, we like to think we are giving our readers the best possible option, so we would like to place a priority on efficiency. The pelpro PP130 is highly efficient. An 81.6 efficiency rate implies that you will be saving more from your electrical bills.
This efficiency rate makes this device great for the environment and helps you save more by cutting off excess electrical bills. The device comes with three different heat settings. The pelpro is better as it serves as a perfect alternative compared to most wood pellet heaters.
You can use the knob on the side to adjust the settings. The knob does not turn hot when the stove is on; this allows you to configure the heat setting while the furnace is still working.
The fan uses a variable speed setting. The system distributes heat evenly across the entire room without making some parts feel stuffy or cramped. At about 130 pounds, the Pelpro stove is relatively light in weight when compared with most models. This device is worth checking out because of its efficiency. It is economical and helps you save more.
Pros
Durable
Distribute heat evenly.
Artistic design
Cons
The knob control is hard to figure out
It produces an invisible flame.
Bottom line
The Pelpro PP130is a powerful, affordable, and economical pellet stove. It produces over 40,000 BTUs of heat; it durable to last long and economical enough to save cost.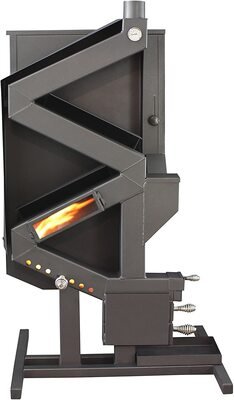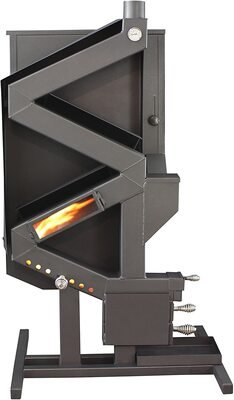 The GW 1949 wise way pellet stove is incredible because you can use them without electricity.
They are manual and use gravity to run. Being a high-quality EPA-certified and UL-listed manually operated wood pellet heater, it is as good for the environment and pocket-friendly.
The GW1949 is one simple device. They are fool-proof, So you don't worry about the non-automatic or a non-electronic device giving you the heebie-jeebies on usage. All you need to do is to heat the chamber, and you're good to go!
The thermometer gives you an added advantage; it works with the US Stove model and helps you identify the rate at which the stove is working.
The 60-pound hopper lasts for a while. You can get this working for 36 consecutive hours when you fill it all the way. A three-inch pellet vent is used to help you add the wood pellets with enough room.
The natural gravity-fed system is an essential part of the stove. The feed setup allows the wood pellets to move down towards the burner naturally. The design reduces the need for maintenance and ensures pellets are burned completely.
Pros
The hopper weighs about 60 pounds, thus making it a lightweight model
Quick installation
Very durable
Economical
Cons
Requires extensive cleaning after the pellet tray is empty
complicated design.
Bottom line
The GW 1949 eliminates the need for electrical power by using natural gravitational force. This revolutionary designed product is one of is UL Listed, and EPA approves. The product comes with durable mechanical parts; this helps to ensure low breakdown and less maintenance.
The pleasant hearth large wood pellet is the "one" stove for indoor heating. It is compatible with single-family or portable home usage and requires very little assembling.
You don't have to sacrifice the power in your heater for efficiency when using this stove. The stove uses a large body that can handle 50,000 BTUs of energy while still working with an 85 percent efficiency rating.
The large heat unit area measures up to 2,200 square feet. The layout works with an 80-pound hopper, while the model can burn for about 46 hours. This can work for at least 16 hours when used on maximum heat settings.
The design also lets you operate this continuously on a minimum or maximum setting, giving you more control over how well the furnace heats your home. You can even use an outside air kit with this model.
The included feature lets you adjust how the installation handles external heat.
The blower is built inside the unit, and The blower's interior body allows heat to be distributed evenly.
Pros
Offers more space for heat
Simple control mechanism
The classic design comes with a small tuner for adjusting the heat level.
Cons
It takes a bit for the heater to reach its fullest setting
Large body size.
Bottom line
The Pleasant Heat stove is easy to clean, load, and very efficient. It comes with a large hopper; this helps save you the stress of reloading the stove with pellets every minute. The stove works perfectly with all kinds of wood pellets, it burns clean, and with less ash.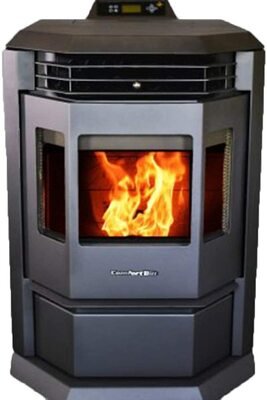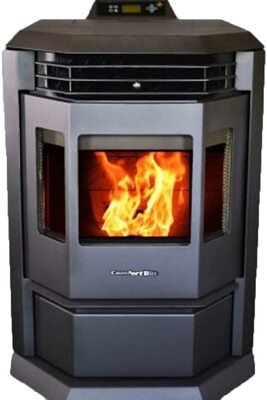 You gain more control over your home temperature as you use the Comfortbilt pellet stove. The digital control panel works with electrical power. They are not ventless pellet stoves and need to be linked with a ventilation system; this process makes installation a bit complex.
The digital display allows you to control the heat setting on the stove.  The product is linked to a programmable thermostat for easy control.
It can be daunting for people to buy a pellet stove as they usually are put off by assuming that they will have to install pellet stoves for each room in their home. Let's burst your bubble and be straightforward. "no, you don't have to go through that!".
The five heat settings on this model help you to produce enough heat to saturate your entire home. This system is strong and durable; the hopper can hold as much as fifty-five pounds weight.
Pros
Offers more control.
Offers a quick response to control
It comes with a flame view area.
Cons
Takes a bit to install
It requires an extra bit of time to get out of standby mode.
Bottom line
 This is one of the top-rated stoves sold in North America. The outstanding design gives your home an artistic effect. The stove comes with five adjustable heat levels that are programmable or operated manually. Additionally, it comes with a quiet high CFM blower which is used to distribute the heat generated in your apartment evenly.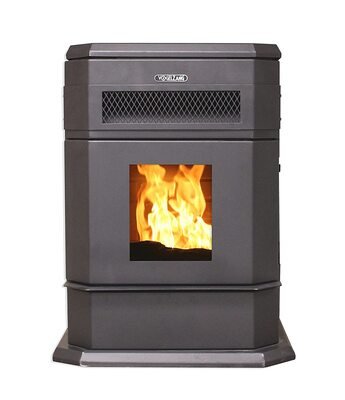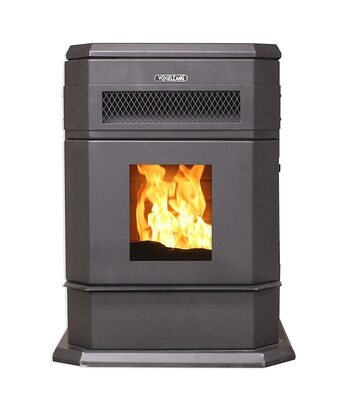 You can get a large number of pellets added to this Vogelzang stove. This great pellet stove is capable of carrying at many as 120 pounds of pellets. The hopper offers a simple design that lets you quickly load and clear out pellets.
The LED display on the top part of the model lets you review the stove's specific heat setting. This is accompanied by a thermostat that displays the amount of heat produced within the model.
The steel body gives this model a rigid look and makes the device resistant to wear or warp. You can use this pellet stove in many spots; it's also mobile home-approved.
It can be safely placed in an American-made mobile home and can work without threatening anything inside the vehicle. If this paragraph doesn't sell it, then its large heating capacity should!
Pros
Large heating capacity for.
The simple LED display is easy to read.
The fans operate well inside the unit.
Cons
Very heavy
It takes a while to install.
Bottom Line
The Vogelzang VG5790 Hopper Pellet Stove is well-constructed and smartly designed with an easy-to-clean interface. The stove can hold bags of wood pellets.
7.

Magnum Classic Matte Black Little Rascal Wood Pellet Stove

– Heavily Efficient
This is indeed a little rascal. There is no way we could have omitted this fantastic piece from our list. The little rascal offers an auto-ignition with five different heat settings.
The physical design comes with a distinct door that features a gold-plated accent. The magnum classic is designed to add a touch to your home décor with convenience in mind.
A small handle protrudes to add a personality and a touch of carelessness. The handle is far apart to keep the surface from becoming too hot or uncomfortable when the rest of the stove is working.
You'll also appreciate the aesthetic tranquillity and warmth the stove brings to your home. The striking black and gold appearance adds a jaw-dropping effect to anyone that beholds it.
Few brushed nickel accents also add a bit of extra detail all around. Here is the center of attention when it is cold outside and the warm inside while you grab a coffee and have a chat with a loved one on a cozy sofa.
Pros
It produces heat rapidly
It produces consistent heat
The door adds a classy touch and mixes well with the base.
Cons
Weighs nearly 300 pounds
The motor can produce lots of noise.
Bottom line
The added warmth produces a firm body that ensures the stove will keep working and will be easy to trigger and activate at any moment. The Vogelzang VG5790 Hopper Pellet Stove is well-constructed and smartly designed and comes with an easy-to-clean interface. The stove can hold bags of wood pellets.
What To Look For Before Buying A Pellet Stove?
The following guide will help you know the available features to look out for when you're out to get a pellet stove that fits your needs.
Types of Pellet Stoves Available in the Market
Wood Pellet Stove
Some pellet stoves are made to handle standard. The loading space inside the stove should be easy to access and use. You can use wood pellets to create more heat thanks to the lack of moisture inside the pellets.
Electric Pellet Stove
Some pellet stoves work with added electricity to heat the pellets inside the stove. This works in place of a basic heater, making it all the more useful for your needs.
Whole House Pellet Heater
You can get a pellet stove to work with all the rooms in your home. The furnace can link to some fans and vents around your home to distribute warm air to move to different rooms. This is a complicated type of heater setup, although it is very convenient for use.
What Should be the Stove Size?
You have to look at how well the stove is laid out based on its size. The size is based on not only the physical dimensions of the stove but also how much heat the material produces.
This includes reviewing the square footage to heat within your home. You have to find a quality stove that can handle enough BTUs.
The BTU or British Thermal Unit is the primary measure of the size of a pellet stove. This is the measure the stove produces the amount of power. A higher BTU rate means the production of more energy, thus allowing more heat around.  
You might need more BTUs if you are putting your stove in a spot where it is easy for heat to move out of the house. The BTU output is a reference to the specific amount of heat produced at a time. Some models can work with many output levels.
Look at the maximum that the unit can support to figure out how well you can get this running in your home. You may also look at the efficiency of the stove when looking for a good model. Efficiency refers to how well the stove can produce heat.
The stove may have an efficiency rating of 70 percent or higher. A greater rate means that the stove can do more with the heat generated.
Where to Place the Pellet Stove?
Be aware of how well you are placing your stove within your home. Below are three factors to consider:
Look at the insulation in your home: A home with more insulation does not need a strong pellet stove. The heat from the furnace should move well inside your home.
See what windows are in the spot where the stove is to be added in: The windows should be comfortable and secure, but windows that are cracked or not lined properly would consume more power.
See how high your ceiling is: Hot air from the stove can move to the ceiling quickly. Any unit in a high-ceiling area will need to be more powerful to allow production heat around the room's lower parts and corners.
The Burning Material (and Why Burning Pellets Is Best)
People often ask, can you burn wood in a pellet stove? Yes, you can. You have to make sure that you get the right burning material for your pellet stove.
Your stove should work with wood pellets, which are placed in the hopper. You must use only the pellets that the manufacturer recommends.
Wood pellets are small bits of wood that work specifically for pellet stoves. There are many reasons why these pellets are ideal for use:
Wood pellets hold together and are consistent; this feature makes them flammable.
Wood pellets burn cleaner; they are made from sawdust and other light wood items.
You won't produce lots of creosote with wood pellets. The black creosote substance that builds up will be minimal compared to most traditional means.
Wood pellets are made with pure wood and do not contain used wood features. Used items may be pressure-treated and coated with paint and other potentially flammable objects.
Wood Stoves vs. Pellet Stoves
Both products offer the same function, but their efficiency varies.  Here are some points to note and spot some of the major differences between the wood stove and a pellet stove.
Heating medium
A pellet stove is different from a wood stove based on the heating medium.  Pellet stoves burn pellets and create heat. Conversely, wood stoves use wood materials.
Cleaning
Due to a major advancement in technology, pellet stoves are more organized and easy to clean.
Heat production
You can easily predict and control the degree of heat produced by the pellet stove. This feature is different from a wood stove that is designed to produce more heat with less control.
Cost
Pellet stoves are less expensive and range from $1,500 to $3,000. On the other hand,  wooden stoves are more expensive and range from $4,000 or more.
Emissions
Pellet stoves, when compared to most traditional wood-burning stoves, tend to be more efficient. They are more efficient than the wood model that doesn't have EPA certification.
Safety
Safety is key once you're on with either the traditional or a contemporary designed stove. But you stand a better chance to be on the safer side if you're using a pellet stove because it's easy to maintain and produces less fume.
FAQs
Editor's Pick
Our top pick is Pelpro PP130-B Pellet Stove for the best pellet stove in this guide. The extensive amount of coverage produced by the pellet stove ensures that your stove will keep on working well for most of the needs you have.
Conclusion
Pellet stoves are designed in different sizes and styles. Some are meant for large spaces, while others are designed for small rooms. One of the edge cutting advantages is that they are mess-free compared to wood stoves and most heat sources. Pellet offers you a simple, decent, and durable option to heat your room for a protracted time.
Once you're shopping, the installation process should call your attention; although this solely depends on your home step-up, you might need the attention of a handyman to help with the installation.
We also recommend you give attention to customer reviews on different pellets; this can serve as a guide when making a selection based on size, style, efficiency, and price.
As the adage goes, " A home is a starting place of love, hope, and dreams" now that would not be true if you have a cold home. We have just explored the best options available in the market. So what are you waiting for? Why not choose from our best pick of pellet stove?